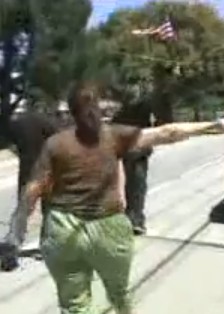 I'm not really sure whether the children in this video are Mexicans or Americans, whether they are in this country legally or not. Because of our federal government's dereliction of duty, it can be very hard to tell.
But what isn't hard to tell is that these belligerent young people who are living in the United States in Morgan Hill, California hold Mexico in higher regard than they country in which they currently live. This is evidenced by the chants about Mexico, the waving of the Mexican flags, and the disrespectful behavior displayed toward the American flag.  The attitude of ingratitude and arrogance is nauseating.
To patriotic Americans, it is very simple: if your loyalty isn't to the country in which you live, you're living in the wrong country.
The illegal alien issue is getting ugly, but it's time we quit pussy-footing around this issue.  We're overdue for protecting our borders and restoring law and order to our nation.  We're overdue for seeing the people who live in this country respect this country, or be ostracized.