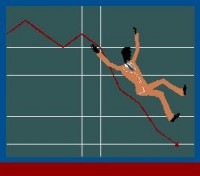 President Barack Obama and his fellow socialists in congress were banking on the hope that after their unconstitutional health care scheme passed, the American people would acquiesce as we have on other things for too long, and we'd meekly swallow their plans.
It isn't happening.  Instead of approval numbers for this socialist scheme going up, they continue to drop.
The latest numbers from Rasmussen now show a record 63% of American voters now favor repealing this monstrosity.
Despite hopes that Obama might be getting a little bounce in the polls recently, his approval continues to drop.
From Rasmussen:
The Rasmussen Reports daily Presidential Tracking Poll for Monday shows that 25% of the nation's voters Strongly Approve of the way that Barack Obama is performing his role as president. Forty-three percent (43%) Strongly Disapprove, giving Obama a Presidential Approval Index rating of -18
It's no wonder Obama had no coat tails in recent primary elections, and that campaigning Democrats would rather he just stay away.