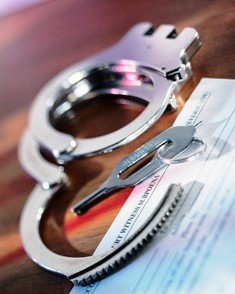 A Christian preacher in the UK was arrested recently for stating that homosexual behavior is a sin. This preacher must have failed to receive the memo that immoral behaviors are protected behaviors, and that he is not entitled to criticize them in any way.
From the Daily Mail:
Mr Mcalpine was talking to shoppers and handing out leaflets when he was allegedly warned he was committing an offence by PCSO Sam Adams – who introduced himself as his force's lesbian, gay, bisexual and transgender liaison officer.

When he continued preaching, Mr Mcalpine was arrested while debating his views with a passer-by.

'I think justice will be served and this will be found to be a ridiculous charge,' he said.

Mr Mcalpine is just the latest preacher prosecuted for speaking out against homosexuality, and his arrest comes days after a top judge was criticised for ruling that Christian beliefs are not entitled to special protection by the courts.

He was taken to a police station, had his pockets emptied and his mobile phone taken along with his belt and shoes, and was kept in the cells for seven hours where he sang hymns to keep his spirits up.

'They treated me like a common criminal,' he said.

He was later charged with using abusive or insulting words or behaviour contrary to the Public Order Act 1986 and released on bail, appearing before magistrates in the town last week.

The self-proclaimed born-again Christian, who is single, insists he has a right to express his views. 'It's not just my right I'm fighting for, it's everyone's',' he said.
'We're going down the route of a police state. Some people in the homosexual community may not like me after this. But it would be very intolerant of them to not allow me to have my say.
So apparently Christian beliefs (which are at the foundation of British laws and ethics) are not entitled to protection by the courts, but an unnatural, immoral and unhealthy sexual practice is–not only to be practiced, but to be immune from criticism.
Now some of you might say, "But Bob: this isn't the United States where his God-given right to freedom of speech and freedom of religious expression are guaranteed by a constitution." And you would be right.
But don't ever forget that the socialists currently running our government desperately want the United States–the world leader in freedom for over 200 years–to be more like Europe.
Unless "we the people" remove record numbers of these socialists from the U.S. government in the coming election, America may very well go the way of Europe…down into the cespool of lost freedoms and depravity.