Archive for April 3rd, 2010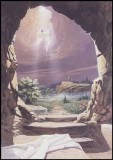 The first three of God's ordained feasts given in Leviticus 23 to the Israelites almost 1500 years earlier were played out explicitly and precisely in the events of Holy Week. The prophetic nature of these "appointed times" is clear. Jesus' triumphant arrival in Jerusalem, Passover meal, death as a Passover sacrificial lamb, burial and resurrection all occurred at the "appointed times" just as God had foretold through His prophets. Rejoice!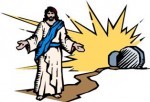 During this Easter season, we do well to confront the claims of Jesus Christ. We should run with Peter and John to the tomb to see if it is really empty. If it is not, then we should grab all the gusto we can in order to anesthetize us from hopelessness and despair. If it is, we can sing "Alleluia!" for the curse has been broken, death has been defeated, and life eternal is available to those who believe.