"President Obama, are you listening?! ….We're thinking of having a Chicago tea party in July. All you capitalists that want to show up to Lake Michigan, I'm gonna start organizing!"
It was just over a year ago that millions of Americans were thrilled by those words spoken by CNBC's Rick Santelli, speaking from the floor of the Chicago Mercantile Exchange. He was one of the first people in the mainstream media to boldly say to Barack Obama what so many of us were thinking. The tea party movement was born that day.
In the short year that has passed, the tea party movement has exploded. There are numerous chapters in every state of the nation. All who believe in government as defined by the Constitution are welcome to join the movement. It is naturally true that most who join will be of a conservative nature, but libertarians, liberals and others are always invited in if they can agree on basic principles of freedom from an overreaching bureaucracy, out of control government spending and taxation, and all forms of unconstitutional power-grabbing by Washington.
The power of the tea party movement can be partly seen in the reactions to it by the left. When they speak of tea partiers, the derision, slander and libel that pours forth from leftwing commentators and writers is amazing to behold. Tea partiers receive the same kind of treatment that Sarah Palin received and continues to receive. As the left fears and hates Mrs. Palin, so they fear and hate the tea party movement, and I believe they are shocked by its birth and growth. The depth of love for America and our Constitution in the hearts of the majority of the people was underestimated by those in power on the left and even on the right.
Common threads of the tea party platform among all the groups are the concepts of fiscal responsibility, limited government, lower taxation, and national sovereignty, and these are quite important. But, when it comes to "social issues" like abortion and homosexual "rights," some tea party leaders tend to shy away. I recently heard a lady on Sean Hannity's radio program who is a tea party organizer. Sean asked her about social issues, and she basically said that the tea party doesn't want to emphasize social issues, because that might alienate members who agree with the basic platform but don't agree on the social issues.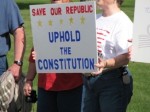 I've heard other similar arguments. Tea party groups want to be inclusive to all who agree with its tenets, so the social issues must "take a back seat." I understand these points, but I have a hard time separating the tea party platform of rule of law from social issues. Morality is a principal foundational element of our Constitution and Declaration of Independence, and rule of law depends on morality to work properly. Morality has undergirded our nation and played a large part in keeping us as that shining city on the hill, although that city's foundation is starting to slide down the hill. Abortion, homosexual "marriage," the decriminalization of drugs, and other such nefarious issues fly in the face of morality. When morality is eroded or shoved aside as unimportant, the foundation of our country is further compromised.
The tea party platform is a wonderful thing, but I don't believe omitting the fight on the social front is the right thing to do. If it comes down to a fear of alienating members who do not agree with the moral-social aspects of conservatism, I wonder if those members who might feel alienated have a heart that is really true at its core to our tea party cause. It reminds me of people who call themselves "Christian," but who support abortion. It's incongruent. I'm not saying that people who support abortion or homosexual "marriage" cannot be patriots, but like-mindedness breeds power, as division breeds destruction.
Please don't misunderstand–I'm not trying to be tedious or to split hairs, as I am quite proud of, and thankful for, the tea party movement. My husband and I work in irrigation and landscaping, and we always say, "It's all about the edges," meaning, your foundation must be correct, or the whole job will be off, and attention to detail is what separates quality from mediocrity. I want the tea party to be the best it can be, and I believe that means no compromise with the enemies of freedom. Once compromise begins, mediocrity follows.
Gina Miller, a native of Texas, is a radio disc jockey. She also works with her husband installing and repairing residential irrigation systems and doing landscaping on the Mississippi Gulf Coast.