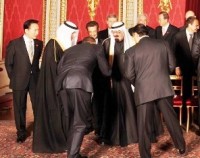 Apparently all the running around the world, apologizing for America and bowing to every foreigner in sight just isn't improving respect for America internationally. Whoda thunk?
From the Washington Times:
A majority of Americans say the United States is less respected in the world than it was two years ago and think President Obama and other Democrats fall short of Republicans on the issue of national security, a new poll finds.

The Democracy Corps-Third Way survey released Monday finds that by a 10-point margin — 51 percent to 41 percent — Americans think the standing of the U.S. dropped during the first 13 months of Mr. Obama's presidency.

"This is surprising, given the global acclaim and Nobel peace prize that flowed to the new president after he took office," said pollsters for the liberal-leaning organizations.
Well, I suppose he could always go back to the model that's worked so well for America for over 200 years: strength, conviction, leadership and resisting evil.  I just don't know if his worldview would enable him to convincingly pull that off, though.