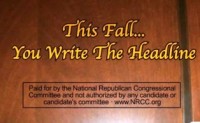 Great ad here from the National Republican Congressional Committee.
Democrats chose to ram through the unconstitutional government health care bill in March.
In November, YOU write the headline the day after Election Day.
Note: Reader comments are reviewed before publishing, and only salient comments that add to the topic will be published. Profanity is absolutely not allowed and will be summarily deleted. Spam, copied statements and other material not comprised of the reader's own opinion will also be deleted.