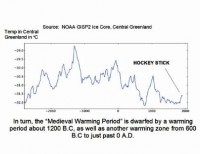 By now virtually everyone on earth is aware of the hysteria being fostered by socialists over global warming.
Al Gore and his disciples claim that any planetary warming that is occurring must be caused by human beings.  After all, the West and America have been dominant for the last century or more, and that is when temperatures seem to have begun to rise (recently in history, that is), so it must be the evil capitalists and their SUVs and industry causing it.
But does that contention stand up to actual science and history?  Not even close. The only "science" that supports this silly theory consists of a lot of conjecture and some "fudged" computer models like the one left naked from the Climate Research Unit in the recent ClimateGate scandal.
History is also not a friend to the anthropogenic global warming religion.  At many times during human history, our planet has been much warmer…and much cooler.  For instance, around the year 1,000 AD, the Vikings colonized Greenland and had a thriving civilization there…only to be forced to abandon it as the climate cooled dramatically a few hundred years later.  There was also a "Little Ice Age" in the 1600's and 1700's where things were much cooler in Europe and America than they were a few decades before…and since.
In fact, multiple studies have found that our planet has been much warmer in many areas of the earth, at many periods throughout history.
This is a nice video which puts recent warming in perspective with temperatures of the last few hundred years…and the last few thousand years.  When we examine the historical record, any warming that may have been occurring recently (and appears to have leveled off) is pretty tame.
But somehow the socialists expect us to ignore science and common sense and believe that our evil addiction to freedom and capitalism is wrecking our planet.  We must ignore the solar activity which corresponds much better to warming and cooling trends.  We are supposed to ignore the fact that other planets such as are Mars and Jupiter have been warming up…even though there are no capitalists on these planets to wreck them with human activity.
Yes, we are supposed to ignore the mountain of real scientific data, along with where the trail of green money leads us, and accept their prophecies of doom purely on faith in their elitist omniscience.
Well, maybe you can turn off your brain like that, but I can't.  I also can't stand by and do nothing to counter this propaganda, nor can I be idle while my country's sovereignty, freedom and prosperity are sacrificed on the altar of a socialist hoax.
So what do you think?  Isn't it time we told these elitists where they can stick their global warming swindle?