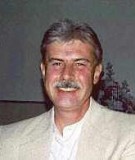 Over and over and over again, we hear how fear mongers and wing-nuts are falsely claiming there are "death panels" where death panels do not exist. Keith Olbermann goes so far as to claim that rather than death panels, there are "life panels." He just doesn't seem to get it that not everyone's experience is like the one he had with his father's passing, where his father's wishes were upheld. Olbermann just doesn't seem to get it that some people, instead, get to find out just how real the "death panel" concept is and has been for some time now.
I'm sorry for Olbermann's loss on the one hand, but quite offended on the other. How dare he suggest his situation is proof there are no death panels and we are all just paranoid, if we say they do exist? (My interpretation of the Politico article, "Olbermann's father dies" .) Not everyone is privileged to have a son in such a vocal position, or to have everything work out as the person and family wishes it to. There are actually some who find the so-called non-existent "death panels" stepping right into the middle of a fight for life situation and deeming it is time for them or their loved one to be dead.
Let's talk Andrea Clark down there in Texas a few years ago.
The so-called ethic's committee decided she was a futile care case and it was time to put her down. Didn't seem to matter that wasn't her wish or her family's wish or that she was fully aware of what was transpiring.
This was the action of a "life panel"?
What about Ted Stith, Sr., from New York?
Ted goes on vacation down there in Florida, has a stroke and, immediately after he does, it is suggested that he be starved and dehydrated to death? Didn't seem to matter that a friend is reported to have said he was aware, was reaching for water and was trying to communicate. On second thought, I guess it did matter. According to reports, she was banned from his room and the possibility of giving him food or water, even if it was his rightful request to be made, and so he was denied the mere necessities for survival.
This is what Olbermann considers the "life panel" process?
We also have Terri Schiavo, who was put to death by court order. A case where she, a brained damaged but otherwise healthy individual, was starved and dehydrated to death based upon heavily conflicted testimony. Perhaps the conflict itself should have been taken more seriously, as would have been, if the people fighting for her life had been considered of importance to the right audience.
Olbermann considers starving and dehydrating a healthy person to death to be what "life panels" do?
More recent in the news is the Gary Harvey case.
The so-called ethics committee decided Gary Harvey should be starved and dehydrated to death as well and put it before the court. He was, after all, at death's door, wasn't he? The order to put Gary Harvey to death was suddenly pulled after the media picked up on the story. Gary Harvey, who was supposedly at death's door and needing to be starved and dehydrated to death last summer, is still alive. Looks like someone got something wrong about Gary being unable to survive and ready to die, and needing to be put down, especially by such a hideous method as starving and dehydrating him to death.
The fight for Gary's life, by his wife, while a system suggests it's time to kill him off, is Olbermann's opinion of a "life panel" in motion?
Just how would Olbermann have felt, if he went up against a committee that decided they knew better and was going to disregard his father's wishes?
Just how would Olbermann have felt, if his dad could have been saved, but the "system" decided otherwise?
No doubt, it would have been quite different if Olbermann was fighting for his father's life, per his father's wishes, and he came up against a system that does have so-called ethics committees (death panels), or the court system that makes mistakes and doesn't necessarily listen to the truth and rule accordingly, or an insurance company that was refusing to pay for rightful care, or even a nurse that didn't see the fight still in his dad.
Bet it would be different then!
Maybe Keith Olbermann ought to get out of the studio and talk with the people who have lost family members to his wondrous "life panel" concept that is actually what is becoming the non-existent reality of the 21st century.
Whether it be by denial of coverage, denial of care or courts deciding to kill people off, because of conflicted testimony…
Death panels do exist — and under the NewWorldCare proposal, they will become far more common!
Carrie Hutchens is a former law enforcement officer and a freelance writer who is active in fighting against the death culture movement and the injustices within the judicial and law enforcement systems.