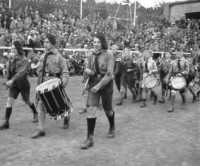 We've heard many stories over the past year about children being led to sing praises to The One Barack Obama in schools.  As disturbing as this is, we've just learned of something even worse: Obama's Organizing for America goons are trying to recruit children at public schools to intern in advancing Obama's Marxist agenda.

Newsbusters reports on information that originated at Atlas Shrugs about Organizing for American internship information being distributed at public schools:
An Atlas reader, Chuck, has a student in the eleventh grade in an Ohio High School. Her government class passed out this propaganda recruiting paper so students could sign up as interns for Obama's Organizing for America (OFA is the former mybarackobama.com site.)

Obama is using our public school system to recruit for his Alinsky-inspired private army. Organizing for America is (and I quote) recruiting in our high schools to "build on the movement that elected President Obama by empowering students across the country to help us bring about our agenda" …………of national socialism.

The Ohio High School is Perry Local in Massillon, Ohio.
Atlas Shrugs features a scanned copy of the "National Intern Organizer" application.  The application lists the weekly curriculum for the training, including Saul Alinsky's "Rules for Radicals."  Rules for Radicals has been a handbook of choice for Marxists and other revolutionaries since the early 1970s, arguing ruthless situational ethics to advance radical agendas.
Among Alinsky's advice:
– Make opponents live up to their own book of rules. "You can kill them with this, for they can no more obey their own rules than the Christian church can live up to Christianity."

– Ridicule is man's most potent weapon. It's hard to counterattack ridicule, and it infuriates the opposition, which then reacts to your advantage.

– Pick the target, freeze it, personalize it, polarize it.
I'm sure you not only want your child involved in advancing a Marxist agenda from the public schools, but you want them to learn cold-blooded fascist bully tactics like this, right?
If you're thinking this is just something made up by evil patriotic Right-wingers, think again.  Newsbusters points out that information about this intern program can be found on the Obama/Organizing for America website. It can also be found on other sites like the environmental extremist EnviroLink.
Liberals have long wanted to get their hands on our children, and to do so earlier and earlier in their development.  The earlier they can get their paws on our children, the easier it would be for them to inculcate their minds with Marxist utopian bilge.
We cannot allow them to do this, folks.  We must get rid of these anti-American usurpers in our government as soon as possible.  We have a chance to get rid of quite a few in 2010–let's get busy!