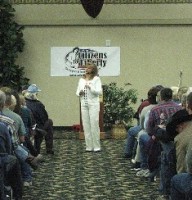 Citizens for Liberty, the Rapid City Tea Party group, hosted the 2010 South Dakota Tea Party Summit today at the Best Western Ramkota in Rapid City.
Tea Party and other limited groups from all over South Dakota joined Citizens for Liberty for a leadership meeting Saturday afternoon.  Among those represented were the Northern Hills Patriots of Spearfish, the Guardians of the Constitution from the Newell/Nisland area, Concerned Women for America South Dakota, the South Dakota Family Policy Council and more.  Some representatives even came from Newcastle, Wyoming and other Wyoming areas.  The purpose of the leadership meeting was to strategize on how to best promote limited government, to share ideas and develop better communication between groups.
At 6:30 pm, people from Tea Party, 912 and other limited government groups gathered for the 2010 South Dakota Tea Party Summit.  The evening began with the posting of the flag, the Pledge of Allegiance and prayer. Special music was provided by Rebecca Marti who sang the Star Spangled Banner.
They keynote speaker for the evening was Kitty Werthmann of South Dakota Eagle Forum.  Werthmann shared her story of growing up under Hitler's Nazis in Austria during World War II.  She captured the attention of the crowd when she illustrated the parallels between the step by step loss of freedom in Austria and developments that have been in motion in the United States for years.  These parallels included centralized government, gun control, secularization, the emasculation and muzzling of the church, distancing children from the influence of their parents, government handouts and subsidies, socialized health care, euthanasia, and more.
Werthmann and other event speakers encouraged people to be involved at all levels of government and reminded them that in America, government belongs to the people, that the people are the government.
Patriotic advocates of limited, constitutional government were clearly energized to make the most of this election year.  They are joining hundreds of thousands of like-minded Americans across the country who are committed to engage the political process in the primary season now upon us, and are looking forward to great change for the better in the general election later this year.
[salbumthumbs=50,2,y,n]