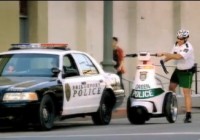 I'm sure some idiot at Audi thought these "Green Police" commercials for the Super Bowl would be funny. I found them downright offensive and not the least bit funny.
In the collection of ads below, you see a guy at the store pick "plastic" when the checkout gal asks "paper or plastic" and the Green Police immediately arrest the earth-destroyer for his intended assault on Mother Gaia. (Didn't these enviro-idiots come up with the plastic bags some 20 years ago to save the earth from all the trees being killed for paper bags?) You also have Green Police digging through people's trash for batteries, and shining a searchlight into a guy's kitchen for putting (or not putting–not being a green wacko, I'm not sure which is "proper") something down his drain. And (oh my) we have evil maniacs being busted for using incandescent light bulbs, plastic water bottles, and having the water too warm in the hot tub. Of course at the end of the commercial, you have the greenie driving an eco-friendly car who is blessed by the Green Police High Priests.
If Audi really meant to point out the idiocy of the "green" movement and its very real threats to freedom…they failed to deliver anything which clues the viewer in to a message that "We think this is nuts." The commercial is presented with too much seriousness to be taken any other way than as approval of such Gestapo tactics. But if Audi wants to appeal to the real environmental wacko out there, they definitely hit the mark with these commercials. The ending tag line is "Green has never felt so right."
Perhaps even more offensive is the next commercial where you have real police sitting in their patrol car drinking coffee as the limp-wristed, shorts-wearing Green Police rides up on his little green thingy to harass the police for drinking from styrofoam cups.
The next idiot lectures the public ala Sheryl Crow's "use one square of toilet paper" nonsense to use one napkin per sandwich, etc. Another cop shows a power strip, calling it a "earth killer" or "mother nature hater" or "power suck."  I have so many of these in my house…
These earth-worshipping morons might have thought they were being cute; maybe they've been drinking too much of their own Koolaid and have totally lost touch with reality.
But they've unintentionally done real people a service here.  They've given people an all-too-candid look at what these socialists envision for the land of the free and the home of the brave.  If we needed any evidence, we got it with the House version of the cap and trade global warming tax passed last summer, including freedom-quashing privacy-invading requirements for things like "shower nazis" and requiring enviro-inspections of our homes before the can be sold–to require enviro-retrofitting before you can sell your home.
In order for a commercial like this to be funny, it has to be absurd.  Woefully, the kind of fascism seen in these commercials is no longer absurd in that "it could not happen."
No, when you have idiots like President Obama's "science" advisor who wants to reverse Western development, believes children aren't yet human beings,  and believes trees should be able to sue in court; when the president's "regulatory czar" is an animal rights wacko; and the head of NASA's Goddard Institute supports the end of industrial civilization; in a past year where we've seen perfectly good cars burned up and destroyed on the altar of environmental extremism…you have to take this crap seriously.
The kind of police state nonsense seen in these commercials could become all too real, and not just decades down the road, but tomorrow.  The intended assaults on freedom in the cap and trade global warming tax bill are Exhibit A.
So I'm left wondering which is the proper urge: to want to slap the enviro-idiots at Audi…or to thank them.