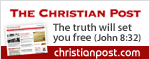 Reprinted by permission of the Christian Post
By Nathan Black|Christian Post Reporter
The Texas State Board of Education on Wednesday begins hearing testimonies regarding proposed revisions to the social studies curriculum.
Dozens of people have signed up to push for one of a long list of topics ranging from identifying the contributions of Hispanic figures to placing greater emphasis on the role Christianity played in U.S. history.
Over the past several months, much of the debate has centered on proposals highlighting the religious beliefs of the nation's founding fathers. Some require that students "identify major intellectual, philosophical, political, and religious traditions that informed the American founding, including Judeo-Christian (especially biblical law);" explain the significance of religious holidays and observances such as Christmas, Easter, Ramadan, and the annual hajj; and describe religious motivation for immigration and influence on social movements, including the impact of the first and second Great Awakenings.
Texas Freedom Network, an organization of religious and community leaders advocating for church-state separation, fear students in public schools classrooms may learn that the United States favors one faith over other faiths.
"Some board members and the non-expert ideologues they appointed to a review panel have made it clear that they want students to learn that the founding fathers intended America to be an explicitly Christian nation with laws based on their own narrow interpretations of the Bible," said Kathy Miller, president of the Texas Freedom Network, according to The Associated Press.
But others argue that the proposed standards do not declare the United States to be a Christian nation. Rather, they provide understanding that the biblical world view of the founding fathers was a big influence in shaping the principles on which the nation was founded.
"An education without some understanding of the profound role of religion in our nation's history and its contributions to our nation's success is an incomplete education and our courts have often said as much," said Derek Davis, director of the Center for Religious Liberty at the University of Mary Hardin-Baylor, told AP.
The 15-member board will take its first votes on the new social studies standards later this week. Final standards will be adopted in March. As the second largest school system in the nation, behind California, a decision to expand the role that religion played in U.S. history could affect the textbooks used by schools nationwide.
Copyright 2009 The Christian Post. All rights reserved. This material may not be published, broadcast, rewritten, or redistributed.