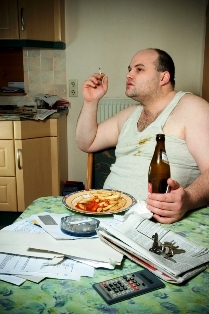 You just can't make this stuff up.  Apparently some people, after watching James Cameron's environmental tear-jerker "Avatar," are getting depressed and suicidal.
From CNN:
A post by a user called Elequin expresses an almost obsessive relationship with the film.

"That's all I have been doing as of late, searching the Internet for more info about 'Avatar.' I guess that helps. It's so hard I can't force myself to think that it's just a movie, and to get over it, that living like the Na'vi will never happen. I think I need a rebound movie," Elequin posted.

A user named Mike wrote on the fan Web site "Naviblue" that he contemplated suicide after seeing the movie.

"Ever since I went to see 'Avatar' I have been depressed. Watching the wonderful world of Pandora and all the Na'vi made me want to be one of them. I can't stop thinking about all the things that happened in the film and all of the tears and shivers I got from it," Mike posted. "I even contemplate suicide thinking that if I do it I will be rebirthed in a world similar to Pandora and the everything is the same as in 'Avatar.' "

Other fans have expressed feelings of disgust with the human race and disengagement with reality.
More:
"When I woke up this morning after watching Avatar for the first time yesterday, the world seemed … gray. It was like my whole life, everything I've done and worked for, lost its meaning," Hill wrote on the forum. "It just seems so … meaningless. I still don't really see any reason to keep … doing things at all. I live in a dying world."
Still more:
"One can say my depression was twofold: I was depressed because I really wanted to live in Pandora, which seemed like such a perfect place, but I was also depressed and disgusted with the sight of our world, what we have done to Earth. I so much wanted to escape reality," Hill said.
Of course, some background about these people might be helpful in determining why they are so despondent after leaving this fantasy world.
We've known for weeks from the reviews that this film is one big ad for environmental extremism and ecological doomsaying.  If I had to make an educated guess, I'd say most of these suicidal people are environmental wackos who got caught up in the "simulated reality" of this 3D earth-hugging wonderland and just can't deal with the real world.
Indeed, that is pretty much symptomatic of liberals and liberalism in general.  They loathe a world where people are responsible for their own welfare, where hard work and ingenuity are rewarded and slackers get little.  They despise a society where producers get to enjoy the fruits of their own labors (instead of slackers getting to enjoy the fruits of others labors), and coming back to this world from the planet-worshipping nirvana of Avatar is a tremendous letdown.
Which is probably why I'll never watch the film; perhaps as a DVD rental, but never in the theater, and only to satisfy my curiosity (rather like the curiosity of watching a video of a horrific train wreck).
I've loved science-fiction since I was a kid, but frankly I get more than enough environmentalist-tinged science fiction just watching the news and reading the newspapers about Al Gore's sci-fi thriller "Anthropogenic Global Warming."  I don't need any more of it on the big screen, nor do I wish to reward purveyors of this propaganda like James Cameron.