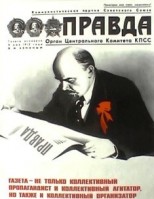 Fox News has the top nine stories on which the lamestream media took a snooze in 2009.
You know, when you sit down and try to figure out just how many newsworthy events just didn't seem to make big headlines, it's a daunting task.  There are so many, for one thing, and so many stories got spun into something they weren't at all. It can be hard for a sane person to keep track over the course of year.
These are stories which by any objective (what the "mainstream" media is supposed to be) estimation should have been among the biggest stories of the year…but were instead hardly heard of outside Fox News, talk radio and the blogosphere.
In any event, we can be sure that the old Soviet Pravda and Tass "news" propaganda organizations had nothing on American lamestream media.  They can cover up government corruption and incompetence, ignore facts and reality, and spin good into evil and evil into good with the best of communist propaganda artists.
If you value your freedom,  be sure to do your own research in 2010.  The folks who's job it is to keep us informed: they've been out to lunch a loooong time, and there are no signs they're coming back anytime soon.
Related articles by Zemanta