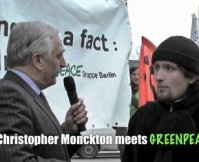 It must be a lot of fun to be Lord Christopher Monckton.
He gets to travel the world and go to places like Copenhagen during the ongoing IgnoranceFest to educate young people who haven't the foggiest idea of the harm they're doing, and raise the level of consciousness among Greenpeace drones.
Monckton talks to some more Greenpeace folks in the video below.  Some of the reactions to his admirable grasp of the facts in the issue of anthropogenic global warming are hilarious to watch. It's like watching an unarmed, untrained 90-pound weakling attack a Navy SEAL.
The evidence for the theory of anthropogenic global warming is paper thin, and the evidence of natural, cyclic change over the history of the earth is overwhelming, and Monckton gives the Greenpeace people just a taste of it.  One might  really start to hope they might actually get it eventually.