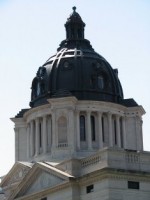 The Rapid City Journal reports Kristin Conzet has been appointed by Governor Mike Rounds to finish Rep. Brian Dreyer's term as one of South Dakota District 32's representatives in the state House.
Conzet, a Fort Pierre native, owns Conzet Consulting, which provides grant and technical writing, along with fund-raising services. She is a University of South Dakota graduate, with degrees in English and Mass Communications.
Dreyer resigned recently because his National Guard unit will be deploying to Afghanistan next spring.
Read more about it here.