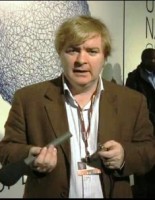 Film maker Phelim McAleer again tries to get a straight answer out of Al Gore at the Copenhagen Climate Hysteria Confab, only to be thwarted by climate goons who keep the dirty unwashed like McAleer away from His Holiness Al Gore.
McAleer tried to ask Gore about some errant statements Gore has made and whether Gore would like to correct the record. Gore claims the Climategate emails and documents showing the monkey business at the Climate Research Unit were all at least 10 years old and therefore "sound and fury signifying nothing."
As if we are supposed to believe that the monkey business, data dumping, fudging and "tricks" magically ended 10 years ago due to a pang of conscience at the CRU.
In reality, some are only a couple of months old.
Unfortunately when McAleer tried to ask Gore if he'd like to correct himself, not only was he not allowed to get within several feet of Gore, a UN security guard pulled the wire out of McAleer's microphone.
I guess that's what happens when you mess with "consensus."
Related articles by Zemanta