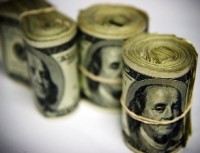 You remember the unconstitutional waste of money program known as Cash for Clunkers, right?  Did you know the liberals in congress have a new cash giveaway program to waste your money?
This one is called Cash for Cloture, as Michelle Malkin so aptly dubbed the giveaway of your money to bribe corrupt senatorial whores into voting for cloture for the unconstitutional government health care bill in the Senate.  These whores will in turn bribe you, their constituents, into (they hope) voting for them when they are next up for re-election.
Do you have more virtue than
Mary Landrieu (D-LA)
Ben "Bribed" Nelson (D-NE)
Chris Dodd (D-CT)
Bernie Sanders (Socialist-VT)
And many more…
Do you have what it takes, when these dirtbags try to bribe you for your vote with talk of all the pork they've roped for your state, to tell them to take their bribes and stick them?
I know I do.
Our senator's and congressmen's jobs are to safeguard the trust of the American people and uphold the Constitution, not play games with the taxpayer's property and undermine the Constitution.
Related articles by Zemanta