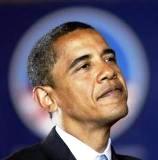 Remember how we were told that America would be safer with Barack Obama as our president?  After all, he is a Muslim, er, knows and appreciates Islam unlike the xenophobic fascist demagogue George Bush.
Indeed, President Obama has gone on an Apology Tour for America, bashing the nation he leads where ever he goes, bowing to every foreigner he can find.  He has done all that any American president could do to humiliate our nation before the world and then some.
And yet terrorists like the Underwear Bomber continues to hate us.   How could this strategy have failed?
Well, it failed for the same reason patriotic Americans opposed this limp-wristed posture from the start: envious anti-American despots are always going to hate us.  As long as our nation is free, as long as our nation opposes evil, as long as our nation has even a facade of capitalism, as long as the neck of America is not firmly under the boot of oppressive thugs, we will always be hated by the enemies of freedom.
We can either deal with that reality and stand firm against tyranny…or we can pretend appeasement may someday actually work, and more people can continue to die worldwide.
The choice is ours…and it will be exercised in 2010 and 2012.
Related articles by Zemanta