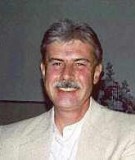 By Carrie K. Hutchens
Gary Harvey is the brain injured man from New York, who seems to have his own private "death panel" determined to kill him off and to make his and his wife's life as miserable as possible, until the sentence is carried out.  One might think it could get no worse than it has been.  One should never think such thoughts, lest one (or more) be shown that — for however bad — things can actually get worse!
Though it wasn't Sara sitting on the so-called ethics committee that determined Gary should be starved and dehydrated to death — the Guardian and County (who actually were involved in the attempted death of an innocent person) — have suggested she is a danger to her husband.
Huh?  Did I miss something there?
Hasn't a DNR been placed on Gary?  If something does go wrong — that's it, isn't it?  Those in charge have made it clear they have no intention of lifting a finger to save his life, but yet, it is Gary's wife, Sara, that is considered the danger to him?
The Twilight Zone has competition!
Let's see…
It is the Guardian, County, and So-Called Ethics Committee that decided Gary should die, but Sara needs to be supervised when visiting him?  So, what do they think she is going to do to Gary that they need to protect him from?
Certainly can't be death!
Certainly can't be torturing him to death by starvation and dehydration!
So just what are the supervised visits suppose to be accomplishing?  What protection are they allegedly providing?  What are they supposedly preventing?
I'm with you — I don't know either!
I did get word though, that the bills for these questionable supervised visits are being charged to Gary and he is either out of money or running out of money to pay for them.  What does this mean?  No more visits with his wife?  And this is in Gary's best interest how?
I don't know who these people are that think they are looking out for Gary Harvey's best interests, but I certainly wouldn't want them in charge of looking out for my best interests under any circumstances.
Isolation is a form of torture.  It causes failure to thrive.  So now, when those in control of Gary didn't get him starved and dehydrated to death, and have not been able to implement the DNR — they are going to deny him his wife's visits?  Who are they trying to punish?  Gary for being disabled or Sara for fighting to bring her husband home?
One can only wonder!
Author's Note: Brief interviews with Sara Harvey can be found at WENY-TV (Dying With Dignity, Emma Wright  June 3, 2009)  and at Family Life ("FLN News/The Gary Harvey Story" , Sarah Harnisch – July 9, 2009) and ("FLN News/The Gary Harvey Story:  An Update" , Sarah Harnisch — October 28, 2009) as well as articles by The Corning Leader's John Zick and Star Gazette's Ray Finger and ongoing coverage by National Association to Stop Guardian Abuse (NASGA). 
Carrie Hutchens is a former law enforcement officer and a freelance writer who is active in fighting against the death culture movement and the injustices within the judicial and law enforcement systems.
.