When bin Laden spoke for years about attacking the Great Satan, we should have paid attention. When Imams boasted of coming attacks in London and Madrid we shouldn't have dismissed them out of hand. When Ahmadinejad talks of wiping out Israel, we shouldn't assume that he is only engaging in rhetorical hyperbole for the sake of the home crowd.
In the first few hours following the attack and killing of 13 Americans and the wounding of many more, we learned a great deal about Nidal Malik Hasan. It actually seems as though Hasan has been telling us for some time just what he had on his mind. Political correctness, military protocols and an ostrich strategy for confronting an unpleasant reality led to the most serious attack by an Islamist since 9-11.
Most comentators would insert here the obligatory disclaimer about the "good Muslims" and the "religion of peace," etc. I say that is nonsense. Let those Muslims that seek peaceful coexistence with the rest of the world speak up and show us what an over-whelming majority they are and just how devoted they are to the cause of peace. The rest of America would welcome such reassurance and it would help us avoid the unfortunate association of Muslims with terrorism. It is the responsibility of the Ummah to counter stereotypes and false impressions and show the world what Islam really means, not mine.
Instapundit begins a piece today with "EXPLOSIVE: Ft. Hood suspect reportedly shouted 'Allahu Akbar'." He then quotes an NPR program about what others have said about Hasan :
He gave a Grand Rounds presentation. . . You take turns giving a lecture on, you know, the correct treatment of schizophrenia, the right drugs to prescribe for personality disorder, you know, that sort of thing. But instead of giving an academic paper, he gave a lecture on the Koran, and they said it didn't seem to be just an informational lecture, but it seemed to be his own beliefs. That's what a lot of people thought.

He talked about how if you're a nonbeliever the Koran says you should have your head cut off, you should have oil poured down your throat, you should be set on fire.
.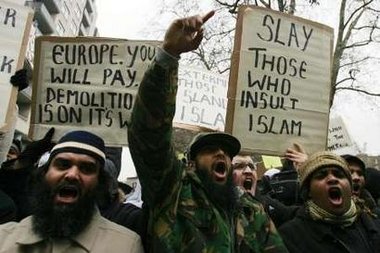 Mr. Hasan, it seems, had been telling those around him for some time what his beliefs and sentiments are. We should start believing such people and act accordingly (within Constitutional constrains for a US citizen). Mr. Hasan enjoyed all the benefits of living in America, where he was born to Jordanian immigrants. His entire education was paid for by American taxpayers. He inexplicably retained his job in the Army despite poor performance reviews that would have finished the careers of most any other officer. Mr. Hasan was given every opportunity and advantage that America has to offer, yet hates this country and desires its destruction. What more can we do to make them love us?
We should stop trying to understand our enemies and instead listen to what they say, watch what they do and stop them before they carry out their murderous occupation. To those Muslims that wish only opportunity, peace and privacy, welcome to America; we can work and live together amicably. But you'll have to speak up in defense of our way of life and take a stand for the liberty and prosperity that we enjoy. I will defend your constitutional rights as an American, but you'll have to defend your honor and your reputation.