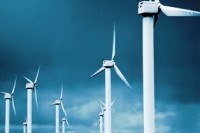 UPDATED (See below)
Environmental activists like to tell us that the "green" movement is a benign, good-willed group of humanitarians who want humanity to be able to live in peace and harmony with our planet, while oil and coal companies are just a bunch of greedy white men in business suits who want to get rich and wreck the planet.
Really?  There's no greed in the environmentalist movement?  There's no greed, scamming, and dishonesty going on there?
Think again. Think again for a long time.
From the Financial Times:
Italian finance police, mounting an operation code named "Gone with the wind", on Wednesday said they had arrested two of the country's most prominent businessmen in the wind energy sector.

Police said the charges related to fraud involved in obtaining public subsidies to construct wind farms. They are also investigating the sale of wind farms to foreign companies…

"Gone with the wind", mounted by the finance ministry's anti-fraud police, started in 2007 and began by blocking public subsidies worth €9.4m ($14m, £8.4m) granted by the ministry for economic development. Last year police confiscated seven wind farms with 185 turbines in Sicily linked to IVPC.

Anti-Mafia prosecutors in Sicily have launched a parallel investigation. The Financial Times was told in April that a large number of wind farms had been built with public subsidies but had never functioned.
I have nothing against wind power or any other form of clean energy, per se.  If a source of effective, clean, renewable energy can be crafted at the same or less cost than fossil fuels, I'm all for it.    Unfortunately evidence is mounting that in addition to higher costs with less effectiveness, "green" projects like these are plagued by fraud (perhaps because most of the hot air driving them is based on a fraud?).
With the fossil fuel industry, even if there is some greed, at least we receive a useful product (one you cannot go a day without in our modern world) for a decent price, while "green" energy costs us more, gets us less, and can be a fraudulent enterprise built on a fraudulent claim.
One of those arrested in this scheme in Europe, Oreste Vigorito, is a former partner of Brian Caffyn, a former partner of the Nantucket "Cape Wind" project, according to the European Committee For A Constructive Tomorrow.
According to the Boston Herald, the American taxpayer and consumer is once again on the short end of the stick with this "green" scam:
In 2006, the Beacon Hill Institute at Suffolk University undertook the most comprehensive review yet of Cape Wind's public subsidies.

"What we found was quite remarkable," David Tuerck, the institute's executive director, said at the time. "Cape Wind stands to receive subsidies worth $731 million, or 77 percent of the cost of installing the project and 48 percent of the revenues it would generate. The policy question that this amount of subsidy raises is whether the project's benefit is worth the huge public subsidies that the developer gets."
Even more interesting perhaps is the fact that this project received $115 million in porkulus, er,  stimulus funds from the taxpayers, but hasn't done anything to merit such a–excuse the pun–windfall:
In September, after First Wind affiliates received $115 million in federal stimulus money, U.S. Rep. Eric J. Massa (D-N.Y.) wrote to President Barack Obama, calling the grants "very alarming" and saying the company "abused the public trust.

"No electricity has been produced for sale out of the projects," but the company "has already collected production rewards for non-existent energy," Massa told Obama.
But the people pushing wind farms just want to save the planet, right? They aren't the greedy ones; it's those evil oil companies (that supply the material for the vast majority of our modern infrastructure including not only gasoline for our cars and to transport our food, but the plastics which virtually everything is made from these days) that are the only nasty profiteers, right?
Perhaps the environmentalist movement isn't as altruistic as some Leftists environmental advocates would have us believe?
HT: European Committee For A Constructive Tomorrow.
UPDATE: I spoke with Cape Wind Communications Director Mark Rogers who asked that I make the clarification that while Vigorito and Caffyn had worked together on projects in the past, Vigorito had no direct connection with Cape Wind, and that Caffyn is no longer involved with Cape Wind. Rogers also asked that I clarify that Caffyn has not been implicated in the matters for which Vigorito, Vito Nicastri and others were arrested in Europe.