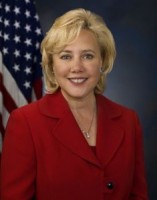 Saturday, the socialists in the Senate managed to push the socialization of America's health care system another key step forward.
And in the process, the rot and corruption of our government was brought more out in the open than ever before…with no shame whatsoever from those infecting our government with decay.
Some are calling it a bribe.
Some are calling it the Louisiana Purchase.
So how much does it take for some U.S. Senators to sell their Constitution and their country?
For Senator Mary Landrieu (D-LA), it seems that price was $300 million. At least she didn't go cheap.
And according to Roll Call, Landrieu is proud of the haul of loot she garnered for those she in turn would bribe for votes: the taxpayers of her state:
"I will correct something. It's not $100 million, it's $300 million, and I'm proud of it and will keep fighting for it," Landrieu told reporters after her floor speech. "But that is not why I started this health care debate; I started this health care debate for all the reasons I just mentioned in my statement" on the floor.
People like Landrieu and every other elected official who is willing to ignore, turn their back on and sell-out the U.S. Constitution need to go–whether it is through impeachment, recall, or replacement at their next election.
Our republic cannot long survive this infection with anti-American socialism, or public corruption.