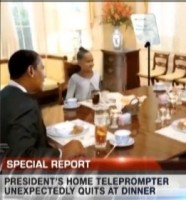 In a frightening development, sources report that President Barack Obama's home teleprompter failed during a family meal.
If a teleprompter can fail in such benign, intimate settings, can the president be considered safe anywhere? Can anyone be safe anywhere?
Fortunately, those sources indicate the president handled this unforeseen mishap deftly, reciting his dinner lines almost verbatim from memory.
It is good for the American people that we have such a skillful man in the White House.