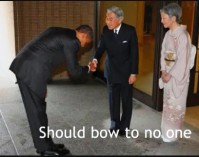 Remember several months ago when our president bowed and scraped before a foreign king?
He's at it again.
From the LA Times comes word that President Barack Obama bowed low to another foreigner, this time the emperor of Japan.
How low will the new American president go for the world's royalty?

This photo will get Democrat President Obama a lot of approving nods in Japan this weekend, especially among the older generation of Japanese who still pay attention to the royal family living in its downtown castle. Very low bows like this are a sign of great respect and deference to a superior.
So he bows before the emperor of a nation that carried out a sneak attack against us, that we ended up defeating at the end of World War II?  And he can't bring himself to defend our use of atomic weapons to save thousands if not millions of American and Japanese lives in an invasion?
Why does the leader of the free world–the leader of the most free nation in the world–feel such an overwhelming compulsion to bow to foreign kings?
A free people–and especially the leader of a free people–bow before no man.
Look, I know Barack Obama spent a lot of time overseas in foreign countries as a youth, and his grandmother even says he was born in Kenya, and yes, I know Obama loathes the American way of life, but can't he at least put on a good show when he's representing the rest of us overseas?
Why must he embrace Marxist thugs and America-haters?
Why must Obama go on an Apology Tour for America abroad?
Why must he bash is own country even as he tries to wrangle for the Olympics in the United States?
Why does he surround himself and fill our government with communists and other anti-Americans?
Is it really too much to ask for the President of the United States to at least pretend he loves America, our Constitution, our ideals, our achievements, our way of life?
How did America elect such a "representative" to the presidency?  Do you know?
UPDATE: HotAirPundit has pictures of other world leaders greeting the Japanese emperor (and a video of Obama's greeting.  Notice that none of the other world leaders were bowing and scraping before the Japanese emperor.
Video of the new bow