S. Michael Craven
Center for Christ & Culture
"In this world you will have trouble" — Jesus
A hillside sermon
He had spent the night in prayer. When he began his descent down the mountain, a large crowd was gathered on the hillside. His disciples were there. He sat down and began to teach. It was the inauguration of his public ministry, a ministry that would lead to the Cross.
Jesus's famous Sermon on the Mount is recorded in the gospels of Matthew and Luke. The sermon spans three chapters in Matthew and barely half of a chapter in Luke. The difference in bandwidth reflects the different in purpose.
Matthew wrote for a Jewish audience anticipating the establishment of the Davidic kingdom promised to deliver them from their oppressors. To reach this group, Matthew depicted Jesus as Messiah, giving prominence to his teachings, especially as they related to the fulfillment of the Law and the coming kingdom.
Luke, writing for a Greek audience, emphasized Jesus's humanity — his compassion, his feelings, his human needs. Accordingly, of the gospel writers it is Luke who reveals Jesus's prayer life, here and throughout his narrative.
In both accounts, the sermon begins with a list of "blesseds" that includes the poor, hungry, mournful, and hated. These groups are not blessed, as some tend to read it, because of their condition — there is nothing meritorious about being poor, hungry, hated. Rather, they are blessed because of the inexhaustible resources of heaven that God, in his fathomless grace, extends to all, even those on the margins of society.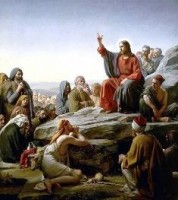 The target audience
At this point, it is important to note to whom Jesus is speaking. [Hint: it is not the crowd!] Matthew and Luke are clear that, although "the crowd" was within earshot, Jesus's message is directed to his disciples. The message marked the beginning of an apprenticeship for a small band of unlikelies tagged for a world-changing assignment. It was fitting that their tutelage would start with a full disclosure of costs.
Jesus begins by disabusing them of any notion that their new association would inoculate them from life's troubles. Instead, they will experience deprivation and disenfranchisement because of that association. They will be among the "blesseds." That should have been their "heads up" that the road ahead was not one of prosperity and prestige. It should have, but it didn't.
For time after time, the disciples are seen maneuvering: When they should be washing feet, they are angling for the head of the table; when they should be denying self, they are asking to be exalted; when they should be carrying their cross, they are carrying their grievances; when they should be following Jesus, they are giving into their fears.
Presciently, Jesus continues his discourse (in the Lucan record) with four warnings.
The woeful
After listing the "blesseds," Jesus lists the woeful: those who are wealthy, well fed, jocular, and of good repute. Not that these conditions, like the "blesseds," have any moral value attached to them. Rather, they are good things that become bent when they become the focus of our life ambitions.
The warning is plain: If the raw recruits are looking to gain spiritual perks and social status, they're in the wrong program. This program is for those who are ready to accept that, in this world they will have trouble, and are ready to trust Him who has overcome the world.  It was a lesson that Jesus would continually press home; a lesson that the disciples never quite got, until a house-shaking experience awakened them from their spiritual slumbers.
Getting it, finally
Weeks after abandoning their disgraced and defeated leader, the disciples were hunkered down in an upper room, waiting, waiting. Suddenly, a cyclonic blast rattled the walls as a Presence invaded the space, filling the room and the believers. It was the One promised to illuminate, empower, and comfort. With new gifts and a dose of fresh faith, the disciples boldly entered Jerusalem, the most hostile place on the planet to broadcast their message about the resurrected Lord.
The Roman and Jewish authorities were highly motivated to keep the story entombed. And, they had ample means and opportunity to do so, if the story was false.
But the frenzied search ended at the mouth of cave. Inside, the cavity was empty; except for an object that human eyes had never seen, before or since: cloth wrappings in a collapsed, cocoon-like condition, as if the contents had de-materialized and oozed out of its fibers. As the material evidence proved uncooperative, the authorities turned their attentions on the storytellers.
In the afterglow of Pentecost, the ranks of the blesseds swelled with the arrest of Peter and James, the incarceration of the Apostles, the stoning of Stephen, the martyrdom of James, and the murderous campaign of Saul whose life, after his Damascus Road encounter, went from boon to bust.
My weakness, His strength
Indeed, Saul-turned-Paul could have been the poster boy for the "blesseds." His post-conversion experience was, literally, a shipwreck, having been so privileged on three occasions, together with multiple imprisonments, beatings and floggings. In beatitudinal echoes, Paul writes about being hungry, cold, naked, and despised, living the life of a fugitive.
As Paul tells it, "I know what it is like to be in need, and what it is to have plenty." Yet, walking on the ragged edge of faith, Paul beams confident, "I have learned the secret of being content in any and every situation, whether well fed or hungry, whether living in plenty or in want." The secret he discovered is in certain knowledge: "I can do everything through him who gives me strength."
Paul understood that God's greatest blessing is not a divine exemption from life's difficulties but, rather, the strength to go through any and every difficulty. His epiphany came after being taken up into paradise, experiencing things that no human had ever experienced. To keep Paul humble, he was given a "thorn" — a pestering affliction that he repeatedly pleaded to be removed. But instead of removal, he received a revelation: "My grace is sufficient for you, for my power is made perfect in weakness."
To a type-A person who had ascended the ladder of religious success through determination, self-effort and competency, that was as counterintuitive as heliocentricity. Nevertheless, Paul realized that no matter how competent he was, he was impotent next to God who chooses to manifest his glorious power in the weak things of this world. Shifting from an attitude of grievance to gratitude, Paul announces, "Therefore I will boast all the more gladly about my weaknesses, so that Christ's power may rest on me."
Having joy
When Jesus said "I came that they might have joy," he was not referring to an uninterrupted state of bliss, a carefree life, or the glowing satisfaction of having our felt-needs met.
Rather, he was speaking about experiencing peace even when our needs go unmet, when everything around us is turmoil. The peace in knowing that "Our God Reigns," and because He reigns, every life circumstance is for my good and His glory. The New Testament writers were constantly reminding the beleaguered believers of this.
Paul tells the Corinthian church that "our light and momentary troubles are achieving for us an eternal glory that far outweighs them all." Peter counsels the early Christians to "not be surprised at the painful trial you are suffering, as though something strange were happening to you." And James writes "Consider it pure joy, my brothers, whenever you face trials of many kinds, because you know that the testing of your faith develops perseverance. Perseverance must finish its work so that you may be mature and complete, not lacking anything."
Reflecting His image
My Weakness, His Strength, as the prophet Malachi suggests in his description of God as a refiner whose fire purifies his people.
A story is told of a man who came upon a silversmith refining an ingot of silver. Curious at the process, the man asked the smithy, "How do you know when the refining is complete?" The smithy replied, "When I look into the kiln and see my reflection."
In the cauldron of the Christian experience, what does that look like? Jesus helps us with the picture in his hillside sermon,
"But I tell you who hear me: Love your enemies, do good to those who hate you, bless those who curse you, pray for those who mistreat you. If someone strikes you on one cheek, turn to him the other also. If someone takes your cloak, do not stop him from taking your tunic. Give to everyone who asks you, and if anyone takes what belongs to you, do not demand it back. Do to others as you would have them do to you."

Love our enemies? Pray for those who mistreat us?
In our weakness, we can't. But in His power, we can!
For Further Reading:
Bible references: John 16:33, Luke 6:12-31, Philippians 4:12, 2 Corinthians 12:9, 2 Corinthians 4:17, 1 Peter 4:12, James 1:2-4   (NIV)
S. Michael Craven is the President of the Center for Christ & Culture. Michael is the author of Uncompromised Faith (Navpress).The Center for Christ & Culture is dedicated to renewal within the Church and works to equip Christians with an intelligent and thoroughly Christian approach to matters of culture in order to demonstrate the relevance of Christianity to all of life. For more information on the Center for Christ & Culture, the teaching ministry of S. Michael Craven, visit the Center for Christ & Culture.