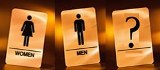 For some time now, homosexual activists in all their variations have been targeting restrooms and locker rooms for their politically correct war on sexual normality.
So far, they have had considerable success in allowing men who "feel like a woman" to go into women's restrooms and locker rooms in places like Montgomery County, Maryland, the University of Pittsburgh, the University of Vermont, Gainesville, Florida, and the entire state of Colorado.
Now it appears the women and children of Tampa, Florida may have to worry about men entering the restroom or locker room with them.
From WorldNetDaily:
The city council of Tampa, Fla., voted unanimously last week to include "gender identity and expression" as a protected class under the city's human rights ordinance, leading some to fear the council has opened the city's public bathroom doors to sexual predators masquerading as protected transsexuals.

A statement from the American Family Association explained, "Tampa Police arrested Robert Johnson in February 2008 for hanging out in the locker room–restroom area at Lifestyle Fitness and watching women in an undressed state. The City of Tampa's 'gender identity' ordinance could provide a legal defense to future cases like this if the accused claims that his gender is female."

The council's decision, which won't be codified as law until a final vote is taken Thursday night, defines gender identity and expression as "gender-related identity, appearance, expression or behavior of an individual, regardless of the individual's assigned sex at birth."…

the section that makes it illegal to "segregate any person at a place of public accommodation, or to segregate any person in regards to … facilities" leads some to worry about the consequences of forbidding discrimination "regardless of the individual's sex at birth."
I predicted this kind of "restroom chaos" several years ago when I saw the depths to which pro-homosexual political correctness was taking our culture.  Sadly, I was right…and then some.
Good Americans must get involved in their government–from the federal level all the way down to their city councils–to stop this kind of decadent nonsense.  People must attend city council meetings to stay informed, speak out at government meetings, organize petition drives where their voices may fail, and ultimately get involved to remove from government elected officials who are hostile to normality and public safety.
In America, government is of, by, and for the people.  In America, government belongs to the people. It's time we took government back from the ultra-liberal social engineers who would put public safety and good order in the back seat to politically correct rot.