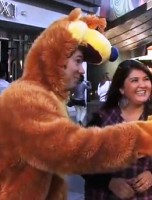 With all the insanity, counterproductive and anti-American behavior we've seen out of congress and the White House in the past 11 months, you might be wondering how we ever came to have such a bunch of reprobates running our country.
Thanks to John Zielger, we found out several months ago.
As Thomas Jefferson said, "If a nation expects to be ignorant and free, in a state of civilization, it expects what never was and never will be."
Samuel Adams also foretold how we could reach the point at which we find ourselves:
No people will tamely surrender their Liberties, nor can any be easily subdued, when knowledge is diffusd and Virtue is preservd. On the Contrary, when People are universally ignorant, and debauchd in their Manners, they will sink under their own weight without the Aid of foreign Invaders.
No, you say?
In case you need a fresh lesson and a fresh illustration that the sad state of affairs has not changed appreciably in some circles since Ziegler's post-election investigation, Steve Crowder of PJTV is here to help.
Notice how so many people are, on one hand, painfully ignorant about things that really matter (like the identity of the people who are selling out their freedoms), while on the other, know all about silly crap that just doesn't matter?!
Bread and circuses, anyone?
With so many people this profoundly ignorant about such important matters, it's no wonder we're on the verge of losing our American birthright and heritage.