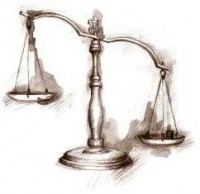 Tim Fountain at Northern Plains Anglican examines a question our culture has been grappling with (and largely missing) for several generations: true Christianity and its implications.
He cites an insightful piece from Christian Smith's "Souls in Transition":
the center of gravity among emerging adults is definitely MTD [Moralistic Therapeutic Deists]. Most emerging adults view religion as training in becoming a good person. And they think they are basically good people. To not be a good person, you have to be a horrible person. Therefore, everything's fine.
This is the simplistic religious logic which passes for "Christianity" in many of the few remaining areas where Christianity is embraced in popular culture today. It essentially boils down to the belief (the hope?) that as long as I'm better than the worst examples of human beings, I'm alright.  Being alright, I no longer have any serious need for religion, since my "training" to be a "good person" is done.
In other words, as long as I don't torture puppies and murder people, God's "down with that" and has to let me in when I die.
Unfortunately, this pop-culture pap has nothing to do with real Christianity.  Tim Fountain points out some of those hard questions.  Chiefly, those questions involve whether Christianity is just some therapeutic, self-help philosophy…or the very real truth about God, our lives, and our destiny based on the choices we make in this life?
Do we believe God when he said:
Jesus declared, "I tell you the truth, no one can see the kingdom of God unless he is born again." – John 3:3
Do we believe God when he said:
Someone asked him, "Lord, are only a few people going to be saved?"

He said to them, "Make every effort to enter through the narrow door, because many, I tell you, will try to enter and will not be able to. Once the owner of the house gets up and closes the door, you will stand outside knocking and pleading, 'Sir, open the door for us.'

"But he will answer, 'I don't know you or where you come from.'

"Then you will say, 'We ate and drank with you, and you taught in our streets.'

"But he will reply, 'I don't know you or where you come from. Away from me, all you evildoers!' – Luke 13:23-27
Do we believe God when he says of Jesus Christ:
Salvation is found in no one else, for there is no other name under heaven given to men by which we must be saved." – Acts 4:12
Do we believe God when he said:
Whoever believes in the Son has eternal life, but whoever rejects the Son will not see life, for God's wrath remains on him." – John 3:36
Do we believe God when he said:
For it is by grace you have been saved, through faith—and this not from yourselves, it is the gift of God—not by works, so that no one can boast. – Ephesians 2:8-9
Do we believe God when he said:
And I saw the dead, great and small, standing before the throne, and books were opened. Another book was opened, which is the book of life. The dead were judged according to what they had done as recorded in the books. 13The sea gave up the dead that were in it, and death and Hades gave up the dead that were in them, and each person was judged according to what he had done. 14Then death and Hades were thrown into the lake of fire. The lake of fire is the second death. 15If anyone's name was not found written in the book of life, he was thrown into the lake of fire. – Revelation 20:12-15
Or is it just enough to be better than the worst of us?
As Tim so rightly points out, there is a big, big difference between what God tells us meets approval and what pop-culture thinks meets His approval.
So who do you think is right?  God or pop culture?  Do you think you should be sure which is right before it's your turn to stand before the Judge?