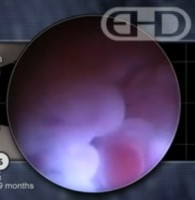 This incredible video below from the Endowment for Human Development shows video footage through embryoscopy of the actual beating heart of an unborn child.
Not just ultrasound, not just 3-D ultrasound, but actual video of the unborn child.
From LifeSiteNews:
By using embryoscopy, a rare technique involving a tiny camera the size of a pen tip, scientists were able to get breathtaking, real footage of the unborn, which shows how preborn babies have a heartbeat at three weeks, make spontaneous movements at six weeks, and have 90% of the anatomical structures found in adults at eight weeks.
Note that this says unborn children develop a heartbeat by third week of development. Statistically, most abortions occur at the 8th week–long after the child has a beating heart.
I once supported abortion.  I supported it because I was ignorant, because I thought it was a simple matter of a woman's sovereignty over her own body.  Little did I know at the time that while a woman should indeed have control over most aspects of her own body, there is another body involved over which she should NOT have life or death control: that of her child.
A woman has many rights which should be respected.  But her unborn child has a fundamental right to live, a right which Americans have recognized since the earliest day of our republic.
Without the right to life, no other right counts for anything.

Watch the video of a 4.5 week old here.
So the next time you see one of those signs along the roadway that says "Abortion stops a beating heart," remember that it's literally true.