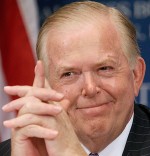 There's news today that veteran CNN reporter Lou Dobbs is leaving CNN.  This comes as no surprise since he has shifted his program from business news to opinion journalism.  Latino organizations have been putting pressure on CNN for some time to get rid of Dobbs becasue of his out-spoken opinions on illegal immigration (that most Americans agree with, I might add).  The circumstances of Dobbs' resignation from CNN are not known, but Dobbs did mention that CNN had agreed to release him early from his contract.
Now,  what can we do to get Fox to "release" Geraldo from his contract and replace him with Lou Dobbs?
Rivera has established his liberal bona fides many times over the years and I have been inclined to forgive him because he at least seems to have some affection and appreciation for our military men and women.  But his pro-illegal immigration rants have infuriated me and many other Fox viewers.  The final straw came when he said this about Michelle Malkin, one of my favorite conservative commentators and a frequent guest on Fox:
"Michelle Malkin is the most vile, hateful commentator I've ever met in my life," he says. "She actually believes that neighbors should start snitching out neighbors, and we should be deporting people.

"It's good she's in D.C. and I'm in New York," Rivera sneers. "I'd spit on her if I saw her."
Geraldo later apologized on the O'Reilly Factor in what Malkin called "a whiny, effeminate, blame-the-victim bleat." A deep rift opened between the three and Malkin vowed to eschew any further appearances on O'Reilly's program. She has become a regular on the Glenn Beck Show, however, where she never fails to draw a crowd. Perhaps Ailes will one day offer Michelle her own show.
With Dobbs free from his contract at CNN, now is the perfect time for Fox to dump Geraldo and get a real American on board as his replacement. Lou Dobbs would be a good fit in the Fox evening line-up. We wouldn't mind if he took Shep's time slot.