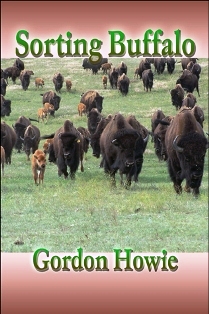 Frederick, MD November 3, 2009 — PublishAmerica is proud to present Sorting Buffalo by Gordon Howie of Rapid City, South Dakota.
Someone once advised a young preacher, "If you haven't hit oil in twenty minutes, quit boring." Gordon tries to follow that advice when sharing a story. That makes his writings an easy read. You will be inspired and encouraged.
Gordon is a lifetime resident of South Dakota. He enjoys raising registered longhorn cattle, buffalo and grandkids! He has served in the State House for two terms and is now serving as a state senator.
PublishAmerica is the home of 40,000 talented authors. PublishAmerica is a traditional publishing company whose primary goal is to encourage and promote the works of new, previously undiscovered writers. Like more mainstream publishers, PublishAmerica pays its authors advances and royalties, makes its books available in both the United States and Europe through all bookstores. PublishAmerica offers a distinctly personal, supportive alternative to vanity presses and less accessible publishers.