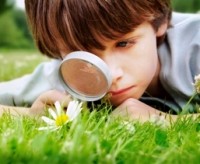 These are the best of the best from Dakota Voice last week. You wanted them, you read them, you liked them.
Now, in case you missed one or just want to read one again, this is your big chance!
Survivor of Socialism Has Warning for America – Kitty Werthmann survived seven years under Nazi rule in Austria and the difficult years after World War II before coming to the United States in 1950. She sees many parallels between how the Austrians lost their freedom, and many of the disturbing trends in the United States recently. She gave a speech in Rapid City outlining her concerns.
Fox should replace Geraldo with Dobbs – With Dobbs free from his contract at CNN, now is the perfect time for Fox to dump Geraldo and get a real American on board as his replacement. Lou Dobbs would be a good fit in the Fox evening line-up. We wouldn't mind if he took Shep's time slot.
Creation Museum a Top-Notch Tour of Biblical Science – A visit to the Creation Museum in northern Kentucky reveals a captivating look at creation science in a stunning 70,000 square-foot, $27 million facility. Featuring information about the museum and a slideshow of some of the offerings inside.
Homosexual Activists Mull 'Organized Terrorism' Against Christians – In the wake of the horrific act of Islamic domestic terrorism at Fort Hood Texas, it has been learned that militant homosexual activists recently made similar online postings to those of Nidal Malik Hasan, threatening additional acts of terrorism against Christians.
Cap and Trade Bill So Flawed, EPA Lawyers Denounce It – The Waxman-Markey cap and trade global warming tax is such a bad idea, even a couple of lawyers from the EPA are sounding the alarm. Laurie Williams and Allan Zabel have created a video outlining their concerns about this fraudulent assault on the American way of life.
D.C. Committee Passes Counterfeit Marriage Bill – A D.C. Council Committee passed a bill Tuesday that would legalize same-sex marriage in the federal district while also providing an exemption for religious groups. The Catholic Archdiocese of Washington said that while the bill exempts religious organizations from performing and providing space for same-sex marriages, it requires them to adhere to city laws prohibiting discrimination against gay men and women. Among the changes the archdiocese fears will be possible under the bill is the forced extension of employee benefits to same-sex married couples.
Homosexual Activists Demand Right to Public Sex – Give homosexual activists an inch, they'll take a mile. This reality has proved itself over and over and over as society has incrementally grown more accepting of this immoral and unhealthy sexual practice. Mere tolerance will never be enough, and was never the goal.
US House Launches Attack on Constitution, American People – The U.S. House of Representatives voted yesterday in the majority to ignore the U.S. Constitution, common sense, history and the good of the American people to push socialized health care on the American people. Come find out who has declared themselves the enemy of your freedom and your Constitution…then get busy removing them from office.
Liberals Love Fox News – Who would have ever thought liberals might praise the fair and balanced Fox News channel? But Fox News criticism of a supposed mistake by Sarah Palin has liberal hearts (who hate Palin more than Fox News) all a twitter.
Did PC Facilitate the Murder of 13 Americans at Ft Hood? – Once more, it appears that political correctness idiocy wins the day…while lives are lost. ABC News reports Islamic terrorist aka "Major" Nidal Hasan was on the radar scope of U.S. intelligence agencies for some time for seeking to make contact with al Qaeda.
Thank you, Dear Reader, for making these the best of the best!