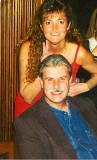 By Carrie K. Hutchens
It's been confirmed.  Judge Judith O'Shea sealed the records in the Gary Harvey case.
William R. Shaw, Sara Harvey's attorney, confirmed the court sealed the records and said neither he nor Sara could "reveal the documents filed in this matter, nor can the Court Clerk."  He could, however, say that medical records are to be produced and he hopes the County will expedite the steps to produce them.
"On Friday, the court clerk's office said the record on the case has been sealed and no information could be released."
"Efforts were unsuccessful Friday to obtain comment from Assistant County Attorney Donald Thomson."
I ask how long the county has to turn over the medical records.  I can't be told.  The court records are sealed.
Maybe the court should consider releasing Gary Harvey on bond, pending the medical records being turned over and an objective review of them once they are.  After all, the court can always order Gary returned back to a county facility, but it can't, if wrong, give Gary Harvey back the lost time nor make up for the isolation in an institution, when he should have been HOME all along with Sara (his wife), family and friends that love him!
Amazing!  A court will determine Gary's fate.  This sounds as though Gary Harvey committed a crime.  I guess he did.  He became disabled!
Author's Note: Brief interviews with Sara Harvey can be found at WENY-TV (Dying With Dignity, Emma Wright  June 3, 2009)  and at Family Life ("FLN News/The Gary Harvey Story" , Sarah Harnisch – July 9, 2009) and ("FLN News/The Gary Harvey Story:  An Update" , Sarah Harnisch — October 28, 2009) as well as articles by The Corning Leader's John Zick and Star Gazette's Ray Finger and ongoing coverage by National Association to Stop Guardian Abuse (NASGA). 
Carrie Hutchens is a former law enforcement officer and a freelance writer who is active in fighting against the death culture movement and the injustices within the judicial and law enforcement systems.