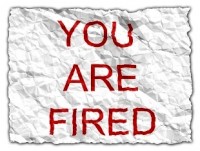 As a majority of representatives and senators in congress display their contempt for the U.S. Constitution, our freedom and the American way of life, WorldNetDaily is backing a hugely successful effort to send a colorful message to socialists in congress: pink slips.
The message is clear: if you keep selling our finances and freedom down the river, you're fired!
If you stacked the pink slips Congress has received warning members away from support of the health-care bill, big spending, hate crimes legislation and energy taxes, the pile would tower over the tallest buildings in the world.

Laying them end to end would result in a trail that would extend over nearly two-thirds of the American continent from East to West.
That many pink slips is bound to get the attention of even the most belligerent socialist.  After all, they can't advance their socialist agenda if they're not in power…and many of them won't be after next year.
Socialists in congress, you're on notice: shape up and start acting like Americans, or you're history.