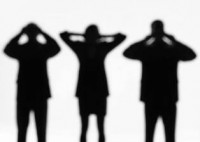 There is a new development in the Climategate scandal, the leaked emails from the Climate Research Unit in England which apparently show a systematic pattern among some climate scientists to twist, distort and manipulate data to make it appear human activity is causing our planet to warm up.
Yesterday we learned that leaders in the U.S. and Britain are calling for a probe into these leaked documents and why many statements made by scientists talk about "tricks" and deleting information and other things.
Now we hear at the American Spectator that Chris Horner, on behalf of the Competitive Enterprise Institute, has filed a notice of intent to sue NASA for refusing for three years to turn over information requested under the Freedom of Information Act.
The information sought is directly relevant to the exploding "ClimateGate" scandal revealing document destruction, coordinated efforts in the U.S. and UK to avoid complying with both countries' freedom of information laws, and apparent and widespread intent to defraud at the highest levels of international climate science bodies. Numerous informed commenters had alleged such behavior for years, all of which appears to be affirmed by leaked emails, computer codes and other data from the Climatic Research Unit of the UK's East Anglia University.

All of that material and that sought for years by CEI go to the heart of the scientific claims and campaign underpinning the Kyoto Protocol, its planned successor treaty, "cap-and-trade" legislation and the EPA's threatened regulatory campaign to impose similar measures through the back door.
One of the things CEI would like to know about is the quiet correction NASA made to it's temperature data a couple of years ago.  The "mainstream" media probably made sure you didn't hear about it, but an error was found by in their statistical data going back for many years.  The result of the corrected data: 1998 was no longer the hottest year on record, but 1934.
Another relates to Al Gore's toy, the discredited "hockey stick."
This scandal in the United Kingdom concerning what seems to be falsified scientific data is far from the first time this has been seen.  In fact, a study done a few months ago found a high percentage of scientists who admit to fudging and falsifying data, and who state questionable practices are all too common in the scientific community.
Anyone who believes the scientific community is above political correctness, political considerations, and the base human nature to make one's self and one's ideas look good is woefully naive.  In the world of large research grants and government taxpayer-funded largess, the temptations are great.
But a free people must not allow their freedom or their prosperity to be taken away from them through things like the cap and trade global warming tax, or the UN climate change treaty, when such things are based on the fraudulent idea of anthropogenic global warming.
And government officials who would turn a blind eye to such fraud do not deserve to work in our government.
This thin theory never has held water, and it's refreshing to see that exposed like never before.