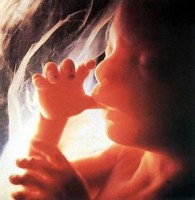 A couple of weeks ago I wrote about Abby Johnson, the woman who went from Planned Parenthood director to pro-lifer after viewing an ultrasound of a living child in the womb.
Now the Washington Times features an article which says that while her church welcomed her as a butcher of children, it has turned decidedly cool toward her now that she believes in protecting innocent human life created in the image of God.
Now she is facing a different kind of music at her parish, St. Francis Episcopal in nearby College Station, the home of Texas A&M University.

Whereas clergy and parishioners welcomed her as a Planned Parenthood employee, now they are buttonholing her after Sunday services.

"Now that I have taken this stand, some of the people there are not accepting of that," she told The Washington Times. "People have told me they disagree with my choice. One of the things I've been told is that as Episcopalians, we embrace our differences and disagreements. While I agree with that, I am not sure I can go to a place where I don't feel I am welcome."
This is one of the great ironies of the Left: they love to sing the praises of "choice"…until you choose to disagree with them.  Then they are as intolerant as any bigot you could think of.
The article reports Johnson said that when she worked at Planned Parenthood, some churches weren't very accepting of her work at Planned Parenthood.
she and her husband, Doug, "had been told by a couple of churches," one being Baptist and the other nondenominational, "that because I worked at Planned Parenthood, we could not be members."
I should make a clarification here that many non-Christians may not understand.  While I would urge Bible-believing churches to reach out in any way possible to someone like Johnson who is reaching out to them (and I believe most would), membership and attendance are two different states and matters.
An attender at a church is under no real obligation or expectation to live a life as the Bible says we should.  But when someone becomes a member of a church, it is more than reasonable to expect them to agree with and live by the major tenets of that faith and denomination.
You see, when someone says, "I'm a member of Church X," they become a representative of that church even if they are not a staff member.  If a member of Church X is known in the community for working at a place that butchers children, then non-believers in a community develop the very reasonable impression that Church X believes butchering children is okay.  It is also reasonable that Church X, providing it adheres to the Bible, would not want the community to believe such a false message about what it believes.
Churches are instructed in the Bible to speak to a member who is openly and habitually doing something wrong, in an attempt to help them correct their behavior.  When such persons refuse to correct their behavior, churches are required to break fellowship with them and remove them from membership (Matthew 18:15-17 and 1 Corinthians 5). The church that does not employ church discipline with a member who openly and defiantly acts in ways contrary to Biblical teaching is itself in disobedience to God.
Another bitter irony in this story is that while Johnson was willing to participate in the destruction of innocent human life, created in the image of God (in contradiction to the Bible), she was made to feel welcome in this Episcopalian church.  Now that she recognizes the inestimable value of innocent human life and wants to live up to the Bible's standard regarding human life, this apostate church  is turning a cold shoulder to her.
In Revelation chapters 1-3, Christ has some harsh (but justified) words for churches that turn their backs on God's instructions.  In light of this account, in addition to Christ's words about people (and churches) who lead people astray and into sin,  I sure wouldn't want to be one of the staff members of this apostate church when they face judgment.
Not only condoning the slaughter of innocent children, but rejecting someone who would have the audacity to believe God when he says human life is sacred…Lord know I'm far from perfect, but I don't want to be anywhere within ear-shot when the verdict comes down on that one.  It's going to be ugly.