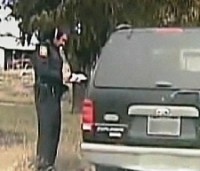 When I worked in law enforcement, I've written some tickets in difficult conditions: rain, snow, howling winds, howling drivers, and more.
But I've never had to write a traffic ticket while a cat was climbing on my head!
This report from WTTG shows footage from the dash camera of Officer Keith Urban police car which captured his attempts to write a ticket while a black cat walked up and kept climbing on him, all the way to the top of Officer Urban's head.
At one point, after shooing the cat away and heading back to his patrol car, the intrepid cat runs after him. Apparently it was eager to go on patrol, too.
I love cats, and I've met some determined ones that liked to literally climb all over you, but fortunately I've never had to deal with a pesky feline while trying to do traffic enforcement.
Urban was a true professional, and very fair.  From what I understand, the cat got off without being charged with interfering with the duties of a police officer.