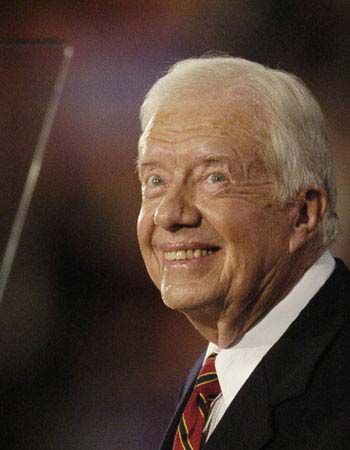 Not that anyone really cares what he has to say, but the country's second worst president recently defended his handling of the Iran hostage crisis in 1979.  In comments made in Thailand and reported on the pages of the China Daily Carter admits that many of his advisors were telling him to assert American military strength when 52 Americans were seized by radical Islamists from the US embassy in Tehran.  But Carter, ever the wimp, decided on diplomacy fearing the loss of life that military action might have caused.
Yet, all it took to secure the release of the hostages was the election of Ronald Reagan.  The actual announcement of their release came literally within minutes of Reagan's inauguration.  Does the significance of this elude the liberal mind entirely?  When confronted with the real and credible possibility of the use of force the terrorists capitulated.  This is an example of the quintessential conservative position of peace through superior strength. 
As long as our enemies consider us weak and without resolve, they will be relentless in their attacks on America and American interests.  The current administration, in an effort to show the world just how lovable we really are and how sorry we are for all our past transgressions has only emboldened our enemies and increased their resolve and thereby made us that much more likely to be attacked again and again.  (The attack at Ft. Hood was simply a probing exercise that went phenomenally well.)
I believe that if Carter had acted decisively and aggressively in response to the kidnapping of American citizens from an American embassy we could have prevented most of the tragedies inflicted upon us over the past forty years.  The rise of radical Islamic aggression began when the United States began to let down her guard following what was a disgraceful withdrawal from south east Asia.   The Islamists took note and calculated our weaknesses. 
Long-term peace and security depend upon having a president that projects a determination to protect America and our friends from attack and that means being a credible force to those that would do us harm.  It doesn't hurt to seem just a little crazy and reckless to our enemies.  Is this how the world views our cow-towing, apologizing, rock star president; as a man who would use the full force of our military power to ensure the safety and security of the United States?  I mean, really?