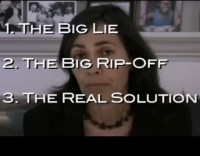 The Waxman-Markey cap and trade global warming tax is such a bad idea, even a couple of lawyers from the EPA are sounding the alarm.
Laurie Williams and Allan Zabel have created the video you see below, and have published an op/ed in the Washington Post outlining their concerns about this fraudulent assault on the American way of life.
I call it a "fraud" because it is based on the fraudulent idea of anthropogenic (man-made) global warming–a hypothesis so unfounded that it doesn't even pass the smell-test of credibility.
I call it an "assault on the American way of life" because it will rob us of both our freedoms and our prosperity in it's mindless zeal to fight a problem that doesn't even exist.
While their op/ed concentrates on some of the fraud and waste of the cap and trade scheme, their video is broken down into essentially three parts: (1) The Big Lie, (2) The Big Rip-off, and (3) The Real Solution.
The Big Lie deals with the assumption that cap and trade worked with acid rain, and will work to stop the imaginary problem of anthropogenic global warming (AGW).
Hanging our hopes on useless o-called "green jobs" (jobs that create a product or perform a service that is unnecessary or inefficient), or on so-called clean energy sources (that are highly expensive, inefficient, or simply unattainable in the near future) are insane.
Their video points out that this scheme has been tried in Europe, resulting in market volatility, higher energy prices for consumers, and did little if anything to reduce greenhouse gas emissions.
The Big Rip-Off segment explains why the much-lauded offsets don't work.  In a similar vein to the lunacy of our Marxist agriculture system where farmers are paid not to farm their land, some of these offsets involve paying people not to harvest their forests to keep CO2-eating trees alive…when they might not have done so anyway. But the demand for wood products remains the same, so trees are simply harvested somewhere else…while companies paid some tribute so they could expend more greenhouse gases into the atmosphere.  In other words, a lot of money wasted while gaining nothing.
When it comes to their third segment–"The Real Solution"–I maintain the contention that no "solution" is necessary for a problem that doesn't exist.
But if we're going to pretend AGW is real…their "solution" is the only thing that makes any sense whatsoever.  The EPA lawyers propose a system of principles that may facilitate and rely on clean energy becoming cost-competitive, and keeps existing energy affordable.
Unfortunately these "energy rebates" are unrealistic.  Only an idiot would expect the federal government to actually give money back to the people (without some Marxist system of sticking it to people they don't like involved, i.e. forget about any fairness).  And after this money filters through the sticky hands of the legion of bureaucrats involved in such a system, every dollar will be robbed of its vitality…resulting in more cost to the taxpayer.
And as I said before, if no AGW problem exists in the first place (which it doesn't), then there's no need to artificially inflate energy costs in the first place.
If clean energy sources can become competitive in both practicality and cost through the normal free-market system that helped produce the greatest nation on earth, fine.  That's a wonderful thing.
But the American taxpayer and consumer should not under any circumstances be bilked or robbed, or have his freedom curtailed, by an un-Constitutional tax designed to solve a problem that doesn't exist in the first place.
HT: Newsbusters.