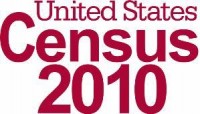 Remember a couple of months ago when it hit the news that a census worker had been killed, and that it seemed to have been the work of  anti-government "Tea Party" types because the man was a government worker and because of the word "fed" written on his chest, presumably by his murderer?
Now that a thorough investigation has been conducted, authorities have concluded that it was a staged suicide.
From Brietbart.com:
A Kentucky census worker found naked, bound with duct tape and hanging from a tree with "fed" scrawled on his chest killed himself but staged his death to make it look like a homicide, authorities said Tuesday.

Bill Sparkman, 51, was found Sept. 12 near a cemetery in a heavily wooded area of southeastern Kentucky. A man who found the body in the Daniel Boone National Forest has said Sparkman also was gagged and had an identification badge taped to his neck.

Authorities said Sparkman alone manipulated the scene to conceal a suicide. Police said he had talked with others about ending his life, though authorities did not say specifically who in a news release.

Sparkman had recently taken out two life insurance policies that would not pay out for suicide, authorities said. If Sparkman had been killed on the job, his family also would have been be eligible for up to $10,000 in death gratuity payments from the government.
When we first heard about this alleged murder of a census worker because of an alleged anti-government sentiment, I was dubious (the Left is, after all, very adept at staging things to misrepresent an issue). But you never know; there was, after all, the unbalanced individual who murdered late-term abortionist George Tiller. So I withheld comment on this until a more detailed investigation was accomplished.
Now it seems Sparkman had some anti-anti-government sentiment…enough to stage his own suicide so that his last act on this earth was to smear those of us who demand that our federal government obey the U.S. Constitution.
It should also be pointed out that most of us "anti-government" conservatives, Tea Party activists and the like are not anti-government at all.  We are not anarchists.  While some of us are, most of us are not even libertarians.  We believe government has a proper and just function, and that for the federal government, the proper role of government is limited by the U.S. Constitution.  Incidentally, one of those roles of the federal government is to take a census every 10 years, as outlined in Article 1 of the U.S. Constitution (though the egregious invasion of privacy of some "long form" census questionnaires is improper–I received one of these about 10 years ago and repeatedly and semi-politely told them where they could stick it until they finally left me alone).
There are those who will desperately cling to the hope that this incident really was a murder perpetrated by some crazed conservative.  The smear-value will be too much for them to easily pass up.  They will seize upon the last chapter of this article concerning Sparkman's smiling demeanor.
I dealt with a number of suicides and suicide attempts during my time in law enforcement, and while this can be evidence against a suicide conclusions, it is by no means definitive.
I had a friend when I lived in England who was very likely the most positive, optimistic and enthusiastic person I've ever known, before or since.  I recall running into him one night on the stairway of the barracks where we lived, and we discussed his fresh state of matrimonial bliss (he had just married a couple of weeks prior, and his wife had not yet joined him from the States).  From everything he told me, his life was wonderful and was only going to get better.  We said our goodbyes and went on our respective ways.
The next morning I saw an ambulance and a couple of police cars outside the barracks. After a few quick inquiries, I found out that this same positive, optimistic man I had spoken to the previous night had gone up to his room and hanged himself a few hours later.
The point: just because someone seems on the outside to be cheery and positive on the outside, that is no indication that all is well on the inside.