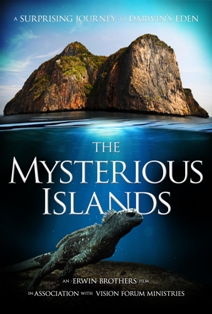 At the 150th anniversary of Charles Darwin's  "On the Origin of Species," a group of Christian scientists gone into the belly of the beast…to demonstrate the fallacies and weaknesses of Darwin's ideas.
As WorldNetDaily puts it,
Just in time for the 150th anniversary of Charles Darwin's "On the Origin of Species," a team of Christian scientists has traveled back in time to the birthplace of evolution to "prove Darwin wrong."

The scientists have embarked on a journey to the Galapagos Islands, the same island chain Darwin visited during the voyage of the HMS Beagle in 1835. Many scholars today agree that the animals and plants Darwin saw on those islands contributed greatly to his becoming an evolutionist.
"The Mysterious Islands" takes a look at the place where Darwin saw a laboratory of evolution and finds a very different conclusion.
For too long Christianity has been on the run from Charles Darwin and the theory of evolution.  For too long Christianity has fled in fear of a phantom idea that can't support it's own weight.
Now, the Christian worldview has walked into the lion's den, has invaded hostile territory, has walked into the temple of the false god and challenged it.
This team of filmmakers has gone to what was essentially the birthplace of the theory of evolution…to prove it's weakness.
Every person has a worldview, a set of foundational beliefs that guide and influence their perception of the world around them.  This fundamental set of assumptions tends to make other assumptions that are in harmony with it seem more plausible, while assumptions that are not in harmony seem less plausible.
Thus it is that two geologists or biologists can look at the same physical evidence and reach two very different assumptive conclusions–and since neither the creationist nor the evolutionist was around when fossils were deposited, both are making assumptions about the origin of that fossil and how it was deposited.
WorldNetDaily recounts a statement by Doug Phillips, executive producer of the film, which illustrates this point by someone who was on the trip with Darwin:
Phillips notes, Capt. FitzRoy had served as a naturalist on his ship alongside Darwin, collecting more animals than Darwin had and properly labeling them.

"FitzRoy saw the same things but he came to vastly different conclusions," he said.

"The Mysterious Islands" revisits an 1860 debate between Darwin disciple Thomas Huxley and Samuel Wilberforce, the son of William Wilberforce, the man who led the fight to abolish slavery in Great Britain. The two fiercely debated Darwin's book.

"In the middle of the debate, Robert FitzRoy stood up, carried a Bible over his head and said, 'You must believe in God before man,'" Phillips explained. "He said, 'I saw what Darwin saw. I was there where Darwin went, and I reached completely different conclusions.'"
If two people can look at the same evidence and reach different conclusions, we must then examine the fundamental assumptions of both to see which best fits the evidence, and to determine which set of assumptions is most logically consistent.
I believed in the theory of evolution until a little more than ten years ago. In what I perceived to be the absence of any weaknesses to the theory, and in what I perceived to be any alternative explanations, it seemed to be a reasonable assumption to explain the fossil record which often contains organisms very different than what we see today.
What I didn't realize until 10 years ago was that there are many problems with the theory of evolution.  I also didn't realize that key assumptions of materialist and naturalist theory are inconsistent with one another, resulting in an illogical theory.  I also didn't realize that there were alternative explanations for the fossil record and many other things we see in nature–alternative explanations that are not logically inconsistent and which better fit the evidence.
When I became aware of these things and stopped to weigh and evaluate them, I stopped believing in evolution and came to believe in creation science.
If you have questions or doubts about the theory of evolution, about whether the Biblical account of creation holds any water, consider making a trip to the Creation Museum.
My family and I went there a few weeks ago, and were amazed at the presentation.   This $27-million, 70,000 square foot facility did not shy away from the theory of evolution in its presentation of the evidence.  On the contrary, in countless areas throughout the museum the theory of evolution was placed side-by-side with the Genesis account of creation to be contrasted.
It will be interesting to watch this film and see different conclusions about the Galapagos Islands that we didn't hear about from Darwin.
Trailer 2
Trailer 1