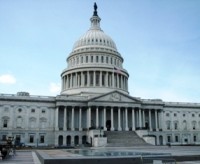 Imagine that: Americans thinking like Americans!
According to an AP poll at Breitbart.com, a plurality of Americans are opposed to the socialist takeover of health care being pushed in congress:
The poll found that 43 percent oppose the health care plans being discussed in Congress, while 41 percent are in support. An additional 15 percent remain neutral or undecided.

"Well, for one, I know nobody wants to pay taxes for anybody else to go to the doctor—I don't," said Kate Kuhn, 20, of Acworth, Ga. "I don't want to pay for somebody to use my money that I could be using for myself."
Other polls like Rasmussen are finding even greater opposition to socialized health care: 54% opposed, the last I saw.
When you get beyond the abstract into the more everyday, practical aspects of the implications of government health care, the poll finds 64% of Americans are opposed to the government requiring everyone to have health insurance or face a penalty.
Stunning that free Americans would actually reject the idea of government oppression in their lives, telling them what they must purchase.
It almost gives a patriot hope that we might yet save our Constitution and our republic!