Mr. Ellis reports today about a Planned Parenthood [sic] director that turned pro-life after viewing an ultrasound of a baby in utero. While not mentioned specifically in the story, I suspect that it was a 4-D ultrasound that convinced the once pro-abortion activist.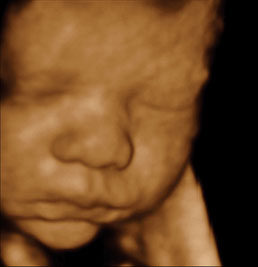 Developed by General Electric, 4-D ultrasound is an enhanced version of
three-dimensional ultrasound, usually displayed in real-time, revealing detail and movement never seen in older techniques. The advantages of the technique were realized quickly as physicians were now able to diagnose anomalies at much earlier stages of development. But, even greater uses were realized as more and more pregnant women underwent the procedure to find that the images induced deep emotional responses that were not anticipated by the scientists.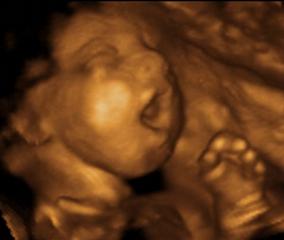 At very early stages of gestation women were connecting with and bonding with their in utero babies like never before. Talk of "amorphous collection of cells" became ridiculous as mothers were able to view their babies as they smiled, yawned or grimaced in response to various stimuli. They saw tiny babies suck their thumbs, play with their toes and even embrace a twin!
Doctors soon found that 4-D ultrasounds could reduce maternal alcohol and drug use, improve compliance with pre-natal care, reduce the incidence of intra- and post-partum depression, improve bonding between mother and child and simply make the pregnancy "more real" to women.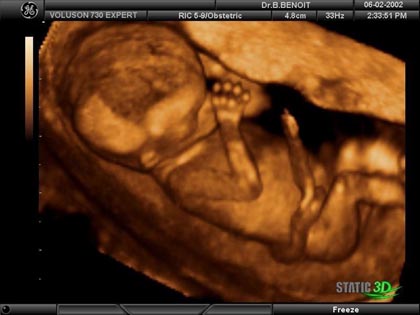 But the pro-abortion lobby was predictably alarmed that women were being exposed to a technology that presents "a milieu of clever illusion" that "blur[red] the distinction between a fetus and a newborn infant." For years they have referred to the fetus as "fetal tissue" or "products of conception" without concern that the distinction between human life and a malignant growth were being blurred.
Ultrasound technology has become a powerful weapon in the fight against those that would destroy life out of convenience, greed or political empowerment. These simple but potent images illustrate the truth and that is the problem for Planned Parenthood, NARAL and other pro-abortion groups. The light of truth is anathema to those who cheerfully walk in darkness. Yet, the God of miracles can transform the hardest of hearts, and science and technology are often instruments of His will.