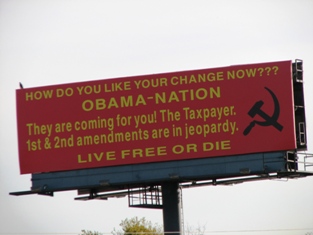 A few weeks ago I heard about a sign in Kansas City, Missouri that was pretty up front about President Barack Obama's un-American, Marxist plans and schemes.
I knew I would soon be passing through that area on I-70 so I made a point to look for the sign when I drove along that stretch of highway yesterday.
Sure enough, as I began looking for it once I reached the Grain Valley area I spied it within just a few minutes and took this picture.
This is a pretty busy stretch of I-70 in the suburbs of Kansas City just east of the big city.
The big red sign asks a question which many people should have considered and asked themselves before casting their vote for a very obviously Marxist candidate who made his disdain for our Constitution and the American way of life pretty clear for anyone who had their eyes open.
So now we have a president who provided evidence prior to the election that he didn't have a whole lot of respect for our right to keep and bear arms.
Our president has also shown a distinct lack of respect for the First Amendment as he has tried to silence insurance companies who wanted to speak out against his unconstitutional push for socialized health care, and he is pushing the envelope to silence Fox News.  He and his administration are busy looking for backdoor ways to silence talk radio and dissent on the internet.
Obama nation?  What President Obama is trying to do to the land of the free is indeed an Obama-Nation abomination.