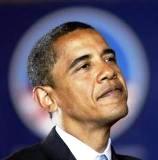 Hot Air and Michelle Malkin have the latest on that sickening, worshipful video of school children singing praises to Barack Obama.
The video was pulled, but has been reposted by another person; seems someone now realizes that not all Americans are empty-headed worshippers of Marxism.
According to information at the aforementioned sources, the video was filmed at B. Bernice Young Elementary School in Burlington Township, NJ.
Malkin tells us this was filmed by Charisse Carney-Nunes, author of the children's book, "I Am Barack Obama" (2009).
From Michelle Malkin:
The Obama school song video that she taped shows her book featured on an easel next to the children hailing Dear Leader. She promotes her book as a tool that "allows children to see themselves through the inspirational story of President Obama growing up as an ordinary child asking, Who will change the world? Ultimately, he realizes that he will."
As Allahpundit noted, part of the song sounds reminiscent of the Christian children's song "Jesus Loves the Little Children":
Jesus loves the little children
All the children of the world
Red and yellow
Black and white
They are precious in His sight.
Jesus loves the little children
Of the world.
Only in the case of this video, it is the Obamessiah to whom the children sing their praises:
Barack Hussein Obama
He said Red, Yellow, Black or White
All are equal in his sight
Mmm, mmm, mm!
I am convinced Ronald Reagan is the greatest president of the last 100 years or more. But I would not want my children or any other children singing such worshipful songs about him…and certainly not about a Marxist like Barack Obama.
Yet another reason I give thanks to God that my children are homeschooled so I don't have to worry about them being brainwashed with garbage like this.