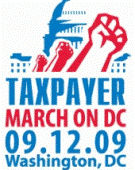 It seems the Left is pulling out all the stops to try and slow down the Tea Party Express.
The Tea Party Express has gone all the way across the country, from the Left Coast to the East Coast (the older Left Coast) communicating the Tea Party message of limited and Constitutional government, with stops all along the way including Indiana as Dr. Theo reported last week.
They've arrived in Washington D.C. to have a Party today in the belly of the beast, the bastion of big spending where the biggest threats to American freedom originate.
But the Left is, predictably,  very opposed to that message and the very idea of keeping our government within the confines of the Constitution.  They hold complete contempt for that Constitution anyway, except for places where they can twist it upside down to repress religious freedom, justify pornography, kill unborn children and the like.
But the Left won't meet traditional American values in the arena of ideas to do battle (they know they come to the fight unarmed); they resort to deception and dirty tricks because that is all they have to justify their position.
The first shot from the Left against the Tea Party in Washington D.C. came yesterday as Speaker of the House Nancy Pelosi and her minions sent out a memo yesterday, ostensibly to warn fellow Leftists that 2 million patriots may come to Washington with the Tea Party Express.
I say "ostensibly" because many people–myself included–believe this was just an inflationary setup by liberals so that when less than 2 million people show up, they can say, "See, that whole Tea Party thing is a farce.  Nobody in their right mind believes that stuff.  Apparently the American people DO want government health care, et al."
From Fox News:
A House leadership aide warned fellow Democrats in a memo obtained by FOXNews.com that up to 2 million people may attend.

"It looks like Saturday's event is going to be a huge gathering, estimates ranging from hundreds of thousands to 2 million people," Doug Thornell, an aide to Rep. Chris Van Hollen, D-Md., wrote, noting that a demonstration held Thursday turned into an impromptu rally for Rep. Joe Wilson, who has come under fire for his outburst during Obama's nationally televised speech to a joint session of Congress

Conservatives have seized on this memo as proof Democrats are playing an expectations game. They say the House leadership wrote the memo in hopes it would be leaked and inflate expectations for the turnout anticipating that it will fall short.

"It's an old political tactic to get out in front and make wild projections and when they're not met, claim their opponents don't have the juice," said Pete Sepp, a spokesman for the National Taxpayers Union, one of the organizers of the rally.

Sepp said there's only one reason to float a number that high.

"You set the bar at 2 million and anything under it becomes a failure," he said, adding that any event in D.C. that attracts 50,000 is considered a success.
Considering that President Obama's inauguration only pulled 1.2 to 1.8 million people (with the wall-to-wall media publicity leading up to that event), it's obvious that 2 million for a Tea Party in Washington is highly unlikely. I have no doubt 2 million is only a start of the people in America who believe in the Tea Party message of constitutionally limited government, but people have jobs and families, and only a few could afford a trip to Washington.
FreedomWorks, the lead organizing group for the event, estimates 20,000-30,000, which is a darn good crowd.
But this isn't the only trick the Left is pulling to undermine the Tea Party Express. It gets much worse.
According to ABC, a man called FreedomWorks office in D.C. and said, "I put a bomb in your building, bitch." This forced the evacuation of 50 people who were working to prepare for the event and get out the word about it.
A FreedomWorks staffer told ABC News that the organization's offices at 601 Pennsylvania Avenue were evacuated on Friday afternoon by DC Metro Police because of a bomb scare.

DC Metro police has confirmed to ABC News' Jason Ryan that the DC Metro police had, indeed, evacuated the organization's offices after being told by the organization that it had received a bomb threat.

The threat came when a man called the FreedomWorks main line and told the organization's female receptionist: "I put a bomb in your building, bitch."

The FreedomWorks staffer who spoke with ABC News said that the organization has received multiple threats but that for some reason, the DC Metro police thought that this one was credible enough to evacuate the building.
Having dispatched units to and responded to countless bomb threats in my military and law enforcement career, I can tell you that this would have shut down FreedomWorks operations for at least an hour or two as police swept the building for a bomb and any other evidence. It also would have hampered FreedomWorks' resources as staff continued to work with and provide information to police even after the dust began to settle.
This act was intended to disrupt preparations for the Tea Party in Washington D.C. on the eve of the event.
The enemies of American freedom may be willing to stoop low and play dirty, but the patriots will be victorious.
The odds were against us in 1776 when one bunch of big-government oppressors tried to shut down freedom, but Divine Providence won the day. We can pray that Divine Providence will once again help ensure that government of the people, by the people and for the people shall not perish from the earth.