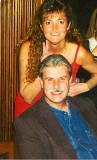 by Carrie K. Hutchens
It was a day in court like any other day, or was it?
The Corning Leader's John Zick and Star Gazette's Ray Finger reported on the September 17, 2009 Gary Harvey hearing. A hearing that sees a county fighting desperately to hold onto Gary Harvey, though the reasons behind their desperation seems a bit unclear. This is a county, after all, that sought at one point to have Gary starved and dehydrated to death. Though the latter was eventually dismissed, a DNR was placed on him and so it remains.
Sara Harvey, Gary's wife, has been likewise fighting desperately. She on the other hand has been fighting desperately to save Gary's life and to get him released from the system prison and back home. Yet, the county attorney keeps trying to paint Sara as the threat and someone to protect Gary from. Interesting that the logic isn't held up by the facts of the case.
John Zick (Print Edition of the Corning Leader – 9/18/09) reports:
"Shaw also accused the county, represented by Donald Thomson, of withholding documents, an allegation the county denies.

"Shaw is specifically seeking Gary Harvey's medical records, but Thomson said under normal circumstances, a wife is not privileged to her husband's records.

"'Litigation changes everything.' Shaw countered."
Sara is trying to save her husband's life. There is question about the care that
Gary Harvey
has been receiving. There are questions as to why a so-called ethics committee decided it was right and good to starve and dehydrate Gary to death. Thomson freely throws allegations out there claiming there is cause to protect Gary from Sara. And where is all the so-called proof that Thomson is relying upon? In the very records he refuses to share, conveniently under the HIPAA excuse.
On the other hand, apparently when Thomson wants to throw suspicion away from himself and his pals, he conveniently, as reported by
Star Gazette's Ray Finger
, says things like,
"In court, Thomson said nurses on their rounds discovered tampering with Gary Harvey's feeding tube that occurred either during or after visits by Sara Harvey."Did Sara tamper with it? Did he pull it out?" Thomson said afterward. "We're not sure, but my position was as guardian of him, we're going to exercise a little caution here and make sure that the aide keeps an eye on Sara Harvey's hands during the visit."
If Thomson can't share "anything" due to HIPAA, what was he doing sharing that there was an issue with a feeding tube? Oh, I forgot — HIPAA only applies if the answer helps Sara's case.
I don't think Thomson was counting on people paying attention to the Gary Harvey case, but paying attention they are. People are noticing such things as his self-serving innuendoes about the feeding tube. Noticing that there is a little problem with this innuendo.
Sara Harvey's visits are supervised. Supervised as in meaning she would have had to tamper with the feeding tube in front of a witness. Did any such witness come forward with such accusations? Apparently not, but it doesn't seem to have stopped Thomson from implying that Sara may have done something she apparently did not do.
And so goes the irony.
Thomson and Pals claim to be protecting Gary from his wife, while plotting his death behind closed doors, as though they have some special right to decide life and death matters over others.
HIPAA? The excuse of all excuses. And the biggest excuses are those who abuse the concept of HIPAA to promote their own agenda.
Sara Harvey is fighting desperately for her husband. Chemung County representatives are fighting desperately to keep Gary under their control for some reason. One sought to have Gary Harvey starved and dehydrated to death. The other fought to save his life.
Who do you think is the REAL threat to Gary Harvey?
Carrie Hutchens is a former law enforcement officer and a freelance writer who is active in fighting against the death culture movement and the injustices within the judicial and law enforcement systems.