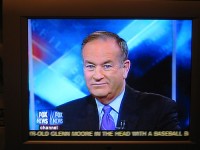 By now you may have heard that there was some excitement this afternoon at the FRC Values Voter Summit–some unplanned excitement, that is.
The first bit occurred during the speech by Rep. Roy Blunt (R-MO), if I remember correctly.
Many of us began to overhear some rather loud talking at the back of the room and at first I couldn't tell what was going on.  I had heard a cell phone ring seconds earlier, so I assumed it was one of those self-important jerks who must announce their greatness to the world with an obnoxious ring tone, followed by loudly talking into their cell phone.
It continued for a few minutes and was really distracting–and I was considerably fartehr away from it than many people.
It was coming from the press area in the back where the media cameras were set up, and I was off to the right side on blogger's row about three tables up from the back.
I soon discovered that it was a Fox News reporter (or at least the Fox News reporter James Rosen was the one I saw speaking loudly–I'm pretty sure one or two others were loud, too).  Someone had walked over to him–I later learned during a live broadcast–and asked him to be more quiet.
You'll see that exchange in the video below, and I believe either right before that or right after that a lady from somewhere in the middle of the audience stood up and told them to be quiet in the back of the room, that people were trying to listen to the speaker on the stage and they were being rude.
I sympathize with the reporters trying to cover the story.  After all, so much of the media ignores anything conservatives say or do (unless they can manage to spin it negatively) these days, it's good to have some decent coverage.
But it really was loud in there.  I'd say who ever made the decision to do the coverage there didn't think things through.  If the media did it on their own, that's on them.  But if the event organizers told them it was okay, then FRC staff didn't think it through well enough.
Well, onto the second bit of "excitement" tonight.
After I went out for dinner tonight, I came back early to buy a couple of author Joel Rosenberg's books that I don't yet have. He will be speaking later tonight and doing a book signing, so I wanted to have them purchased and ready to sign.
I headed back to to the main hall about 15 minutes prior to the time the next session was to begin (7:00 pm Eastern) with Bill O'Reilly so I could check my email, etc.
I was stopped at the door by a security guard who saw my media credentials and told me I couldn't come in until 7:30.  I asked why not, was there something special going on in the hall right now, and he said no, I just couldn't come in until 7:30.  I said that the next speaker starts at 7:00, so was the schedule changed and he said no, the media could not come in until 7:30.
I later found out from one of the other bloggers who had been shut out that apparently Bill O'Reilly didn't want any press in the room while he spoke.
I confirmed with one of the FRC media liaisons that this was indeed a stipulation of Bill O'Reilly's.
I'm sorry, but that seems more than a little hypocritical of Bill O'Reilly to say the least.
After all, the man (who I like very much to watch and agree with on most things) gives no quarter to anyone on his show.  That's essentially how a good reporter should be: not put up with the spin.
Yet he's afraid to have the media report on his speech?
Say it ain't so, Bill!
I'm doing this on a friend's computer up in the hotel room, so I guess I'll check back in…oh, sometime after 7:30 pm Eastern…